Are Squeaky Toys Too Stimulating For Your Dog? I keep reading that squeaky toys can cause aggression, resource guarding, and predatory instincts in dogs. I've yet to see any of those behaviors with my dog, but they certainly create incredibly high levels of excitement. Is it just innocent fun, or are squeaky toys too stimulating for dogs?
Mias Has A New Favorite Toy, and It's a Squeaker
I recently discovered a super cheap toy that Mias will not destroy – even though it's not tough at all. It's become her new favorite fetch toy, and when I'm busy, she's usually off by herself tossing it around.
Her new favorite toy? It's just a cheap old plastic squeaky toy from the local grocery store. It was one of those waiting in line 'oh, that looks interesting' buys. And the best part is it's not a traditional squeaky toy with a squeaker inside. It's shaped like a long narrow tube, and a hole at the end makes the noise.
She doesn't get regular squeaky toys anymore. Those are thoroughly destroyed until she receives that squeaker – and that's too much of a choking hazard.
Are Squeaky Toys Too Stimulating For Your Dog? 
She loved her new orange squeaky toy so much I decided to get her another one, and then another. My once quiet home is now filled with high pitched squeaks. And yes, I keep asking myself why I got her more, one was more than enough…But a dog likes what a dog likes, and they certainly make her happy.
While they've been fantastic, I am starting to worry that they might be too stimulating.
When we play fetch with them, her bottom lip quivers. She still sits and waits for her release, but her bottom lip shakes the whole time. Is that much excitement a good thing? Is it just innocent fun? I wish I knew.
Image
Are Squeaky Toys Do Stimulate Prey Drive
Whether we like it or not, our dogs still have a lot of predatory instincts, and squeaky toys stimulate that drive. What sounds like an innocent squeak to us is emulating the noise of prey to our dogs – some cute little furry animal, no doubt.
I've read that some dog trainers are against squeaky toys because they nurture a dog's prey drive. And yes, I definitely see that. But my question is – is that always a bad thing? Is my dog more likely to go off & kill little animals now? Does it depend on her impulse control?
Most of the trainers that claim squeaky toys cause aggression are the same ones that practice dominance theory. Whether disagreeing with that one idea should discredit all their others is something I'm struggling with.
Perhaps any toy that brings out a dog's prey drive can potentially cause unwanted behaviors, but shouldn't that be decided on a dog by dog basis?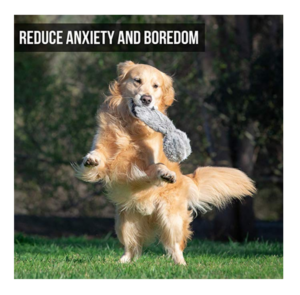 Are Squeaky Toys Too Stimulating?
Lots of activities stimulate prey drive, does that mean they're all terrible? Does it just depend on where that drive is focused? Is the difference only in the predatory aspect a game of tug or a flirt pole that encourages dogs to harness their innate drive?
We used to play with a flirt pole before Laika got arthritis, and I never noticed any bad behaviors as a result. All that pent up energy she used to chase it seemed to be released when I'd let her catch it.
And I'm assuming squeaky toys work similarly, unlike laser pointers where a dog never actually gets to "catch" anything. Is any toy that makes a dog's lip quiver too stimulating? Or is it just a sign of anticipation and excitement?
For now, I'm going to let Laika keep those stupid squeaky toys, even though my ears are telling me otherwise. It's not every day that you find a new favorite toy or three, and they're certainly making Laika one happy pup.
Do You Give Your Dogs Squeaky Toys?
Does your dog play with squeaky toys? Does he or she get obsessive or aggressive with them? Are you nuts like me and buy 3 of the same doll in different colors?
This Football toy stands out from many rubber balls. However, we also accept that some dogs are strong chewers from others. It stands the test of five stars for some dogs.
Even though this toy is made of high-quality material it passed every test we made it can be DESTROY. Dogs like the texture of the ball and the squeaking sound.
The price is not bad and is an excellent toy for any dog medium/large that has a thirst for toy destruction. It a good quality rubber toy but some dogs will chew through it.
The Duration; Do You Give Your Dogs Squeaky Toys  Before?
The duration of this toy does not depend on the dog breed because with some, it will be destroyed in two minutes, and with the same breed, this toy can last a week even months.
Some it really does not depend on breed but on the dog chewing habit.
Therefore, we cannot say this toy is not worth the price because it does and we cannot say that it does not last because it does, it all depends on the dog chewing habit.
The rugby ball is very sturdy and it comes in various bright colors that help the dot spot it immediately if paly on high grass.
This toy has helps reduce dog depression and boredom. Its lightweight design and is made of natural and environment rubber material so it will not harm the dog's teeth and healthy if destroy.
It a non-toxic and is suitable for cleaning the teeth, which conducive to massage the gum and remove of scales.
This product has an advisedly from the manufactory which says to supervise your pet while playing, to make sure you remove all packaging material before usage.
It also says to remove this toy from your pet if it is damaged and for better health, to make sure you clean this toy periodically and keep dry.

It comes with a year warranty, so if there are any problems with the products, they will like to be contacted immediately.
They are willing to provide an unconditional refund to meet the needs of their customers.