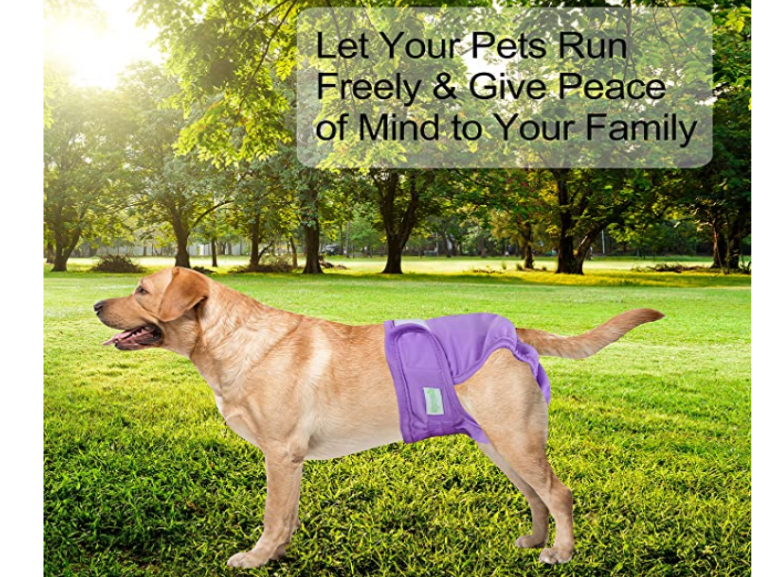 Teaching your dog how to use dog diapers when they need to poop and pee is the first significant thing. It sometimes needs more time to go outside and is one of the first significant hurdles of pet ownership.
Many dogs grasp this concept pretty quickly and become trustworthy within a matter of weeks.
But unfortunately, others struggle with this essential skill. You may be at fault if you haven't employed sound canine housebreaking strategies. It may be because your dog has emotional or medical issues that make it harder for her to hold it.
But regardless of why your dog has trouble, you'll want to take steps to prevent messes from happening.
Dog diapers can help you do precisely that, and there are several options available on the market. We'll recommend four of the best ones below, and answer some of the most common questions owners have about doggie diapers.
But first, we'll talk about some of the reasons dogs need diapers and explain everything you need to know before making a selection.
The Four Best Diapers for Dogs
There are many dog diapers on the market, but you'll want to stick to the very best products available – you don't want to be worried that your dog's diapers aren't going to prove useful.
We've assembled the four best versions available, which you can learn more about below.
Wegreeco Washable Male Dog Diapers
Features: Wegreeco Washable (reusable) Male Dog Diapers are belly-band-style diapers designed to prevent your boy from sprinkling around the house.
wegreeco Washable Dog Diapers – Washable Male Dog Belly Wrap- Pack of 3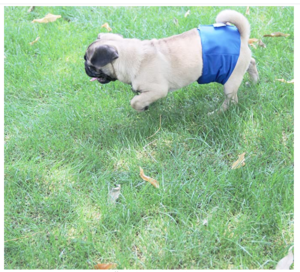 Details
DOG DIAPERS SMALL – Great for small dogs and puppies, waist size 11" to 14". Please measure yours.

NO WORRY LEAKAGE – The quickly absorbent pad is sewn into the diaper and has a leak-free outer layer.

SOFT & COMFORTABLE DIAPERS – We only choose durable materials for our dog wraps.The soft jersey.

IMPROVING LANDFILL WASTE – By switching to washable dog diapers, you got your money back within two months.
Wegreeco Washable Diapers feature a built-in absorbent pad and a completely waterproof exterior to prevent leaks.
However, unlike some other waterproof diapers, the Wegreeco dog diapers are designed to remain soft, and they don't make the "crinkly" noises some other diapers do.
A patch of Velcro is sewn onto the bands to make them easy to put on or take off your dog.
You can machine wash, and machine dries these diapers, just be sure to avoid using fabric softeners or bleach and dry them in a low-heat setting. Wegreeco Washable Diapers are sold in convenient three-packs, which means you'll be able to keep your dog covered while washing the ones that he's already used.
Wegreeco Diapers are available in three different colour and feature combinations:
PROS: Most owners were pleased with Wegreeco's Male Diapers. They appear to fit very well, and they don't seem to be very easy for dogs to dislodge, no matter how much they wiggle and squirm. Most owners felt that their dogs remained comfortable while wearing them and that they were sufficiently absorbent.
CONS: As with some other diapers, they weren't quite absorbent enough for all dogs. However, this was easy for most owners to fix by adding a second pad to the band. A few owners did note that it was difficult to get the urine smell out of the diapers, but that may be due to the detergent they chose to use.
Wegreeco Washable Female Dog Diapers
Features: Wegreeco's Washable Female Dog Diapers are remade in much the same way as their male diapers.
They have a super-absorbent inner core made of jersey material that will help absorb and contain any liquids leaking from your dog. They have a completely waterproof, yet soft, exterior that'll protect your floors, rugs, and furniture from messes.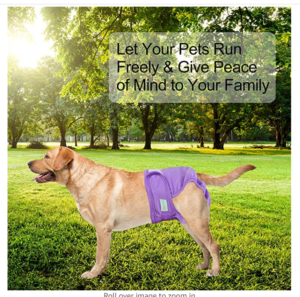 Details
Dog Diapers Small – Best for Small Dogs and Newborn Puppies weight below 3lbs.

Puppy Diapers works for Female Dog – Easy-to-use diaper wrap for dogs. Useful for untrained puppies.

Small washable dog diapers female-Soft & Comfortable Diapers for Dogs.

Super Absorbent mall female dog diapers – Pad sewn into the diaper and a waterproof outer layer.
Wegreeco Washable Female Diapers are machine washable, and you can also throw them in the dryer. Just be sure you don't use any fabric softeners or bleach and use a low-heat setting on your dryer.
Like Wegreeco's Male Diapers, the female diapers are sold in convenient three-packs, so you can use one while washing the other two.
These diapers fit over your dog's legs and tail, and then you'll fasten the Velcro straps to keep it in place. You can get the Wegreeco Washable Female Dog Diapers in four different colour themes: Bright Color, Fancy, Inspiring, and Natural Color.
Note that the Weegreeco Female Diapers also utilize two additional measurements to determine the proper size. See the manufacturer's sizing guidelines for more information.
PROS: First of all, these diapers are pretty adorable. More importantly, they appear to work very well. Most owners who tried them were very pleased with the products. They seem comfortable for most dogs to wear, and most owners found that the sizing guidelines were pretty accurate.
CONS: A few owners mentioned that the tail hole was too small. So you may want to think twice about these diapers if your dog has an unusually fat or fluffy tail. Some owners complained that they didn't contain poop very well. Although that is not much of a drawback as these diapers are not designed for the purpose.
Paw Inspired Ultra Protection Disposable Diapers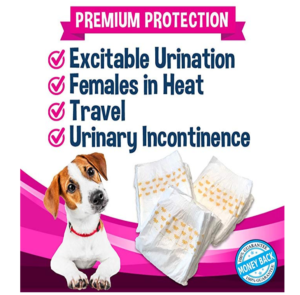 Features: Paw Inspired Ultra Protection Disposable Dog Diapers make it easy to cope with your dog's bathroom issues. Once used, you can simply take off and discard the soiled diaper and put on a fresh one.
Paw Inspired 32ct Disposable Dog Diapers | Female Dog Diapers Ultra Protection |.
Details
Best Dog Diapers on the Market, Check the sizing chart to assure suitable sizing

Leak-Proof, Super Absorbent Core, Comfortable, and Secure Fit Breathable Bottom layers

Repositionable Fur Resistant Fasteners | Advanced DrySpeed Technology that instantly Converts urine

Many Uses and Applications: From Puppy, Adult, to Older Dogs these Dog diapers help with issues like
Designed for use by female dogs (or males who need full coverage). These disposable diapers look like typical human diapers, except that they have a hole in your dog's tail.
They stay in place via two fur-resistant, repositionable adhesive strips. These strips provide a great fit and won't yank your dog's hair when you remove them.
Like most other high-quality dog diapers, the Paw Inspired Disposable Diapers have very absorbent cores, but they also feature DrySpeed Technology.
It allows the diapers to convert your dog's urine into a gel, eliminating the potential for leaks.
Paw Inspired Disposable Dog Diaperssold in packs of 32.
PROS: Paw Inspired Ultra Protection Disposable Diapers received excellent reviews from most owners who tried them. Most owners found that they fit snugly and that they contained urine very well without leaking.
CONS: A few owners reported minor sizing problems, as these diapers appear to run a bit small. Also, a few owners mentioned that the diaper's inner core would become saturated rather quickly. Still, most were able to prevent these kinds of problems by simply adding a supplementary pad to the diaper.
OUT! Disposable Male Diapers
Features: OUT! Disposable Dog Diapers are designed for male dogs who tend to chime in inappropriate places. They're mostly like belly bands, but you can remove these diapers and chuck them in the trash. Slap on a fresh one, and your boy is good to go.
OUT! Pet Care Disposable Male Dog Diapers Absorbent Male Wraps with Leak Proof.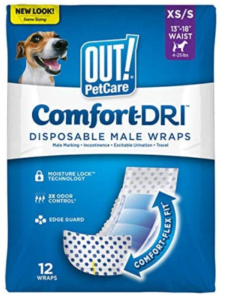 Details
DESIGNED FOR MALE DOGS – Keep your dog comfortable and dry with XS/Small OUT!
LEAK-PROOF FIT – Super absorbent core quickly wicks moisture and keeps dogs dry while leak-proof.
WETNESS INDICATOR- Changes colours when the male dog diaper is wet.

FUR-SAFE FASTENERS – Repositionable fasteners secure the perfect fit and won't stick.
Designed to stay securely in place while your dog lifts his leg and twists his body, OUT! Disposable Diapers feature a pair of repositionable adhesive tabs that won't stick to the fur around your dog's delicate areas.
These diapers feature a two-layer design, including a leak-proof outer layer and a super-absorbent inner core.
These disposable dog diapers are sold in packs of 12, and they feature a fun blue-dotted print.
PROS: Most owners who tried OUT! Disposable Male Diapers were delighted with their choice. Several owners reported that they out-performed pricier alternatives, and most owners found that they fit well and effectively contained their dog's urine.
CONS: A few owners felt that the pads would become saturated more quickly than they'd have liked. But most were able to work around this by using a small pad inside the belly band. Some even found they could get two uses out of each diaper this way. When the pad became saturated, they'd remove it and rely on the diaper.