Which one is the dog bike baskets right for you? You've probably experienced this before. It's a beautiful day for a ride at the beach or maybe on the greenway. And you can feel the wind flowing through your hair and the warm sun on your skin.
You glide by another cyclist and notice their large lab happily running next to their bike. You feel a stab of guilt that you had to leave your small dog at home.
Which one is the dog bike baskets right for you?
You wish your dog could accompany you on your journey. But you know from past attempts that it tiny legs just can't move fast enough to keep up.
This is starting to become a common problem. Small dog ownership is on the rise in the United States.
What Breed is Your Dog?
A recent US pet market Outlook survey shows that small dogs under 25 pounds are at the head of the pack. Most people preferred pets in American households. Over 50% of pet owners surveyed own a small dog than a giant dog or a cat.
A Bike Basket is A solution to this problem.
The solution to this problem is getting a bike basket. Don't let the big dogs have all the fun! You may have thought about getting a basket for your pet. In the past, but felt overwhelmed by the massive amount of available options.
In this article, we'll help you go over a few of the best options for you and your dog. We will go from luxury choices to more budget-friendly baskets.
Keep reading below for an in-depth guide of a few different dog bike baskets. That we feel is the best on offer.
If you're in a hurry to start your next cycling adventure, check out this table as a quick reference.
H
ow do I know which Bike Basket is best for me?
There are a few questions you should ask yourself first when determining which bike basket is best for you and your dog.
Do you want your dog to be strapped into the basket with a harness, or a breathable basket lid?
Both options will increase your dog's safety and peace of mind. But the harness will restrict the ability to move around.
Alternatively, the mesh dome will allow freedom of movement. But may restrict some of the enjoyment of the ride. Do you want to utilize both these options to maximize your dog's safety while riding?
How to Choose a Bike Basket
Do you want a bike basket that sits near the handlebars of your bike, or behind the seat? Although it is certainly easier to keep an eye on your dog if she is in a front basket. It is crucial to keep in mind that these baskets often accommodate only tiny dogs.
If your dog is over 15lbs, she may be more comfortable in a bike basket that sits on the bike's back. Plus, having a dog over 15lbs riding in the front makes the ride troublesome.
Also, the handlebars might make steering more difficult and unstable for less experienced riders.
Are you okay with a pure transportation basket? Are you looking for a basket that doubles as a car seat or a dog bed?
Characteristics The bike basket should Have?
Bike baskets that are only meant to be used for one purpose are often more secure. Indeed, more convenient is if it always your bike and ready to go.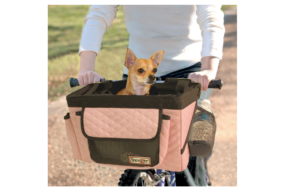 However, it often saves money and space in small homes. To have one item that has multiple functions. If you want a multi-use basket? It's essential to keep in mind that you should look for easy and quick to take off. Also, put on, so it doesn't become a hassle.
Snoozer Pet Bicycle Basket
Coming in as our pick for the second-best dog bike carrier is the " Snoozer Pet Bicycle Basket. "
This basket has over 500 reviews on Amazon and has been on the market for a while.
This water-resistant bike basket is a bit more affordable than the Pet Pilot as well.
This basket's ability to hold only tiny pets. Its lack of reflective strips to increase nighttime visibility. Makes it Tagalong our second choice for the best bike basket.
This is hands down the most stylish basket. With its brown wicker outside and soft faux-sheepskin interior.
The outside of this basket is solid woven wood, offering pets 13 lbs and under proper support. While preventing the bucket from sagging onto the front tire.
The weaving of the Bike Baskets promotes good airflow into the bucket to keep your pet fresh. The removable top helps protect your pet from getting overheated on hot summer days.
~ Pros ~
Made by a longstanding US company and comes with a 1-year warranty
Snoozer has been a maker of excellent pet products (made in the US) since 1991. And has become known in the industry for producing high-quality products.
As would be expected from such a company, they offer online chat, email, or phone support (1-866-738-4379) regarding any of their products.
They can be reached six days a week if you have trouble installing this bike baskets. For even more peace of mind, this bike basket also comes with a limited 1-year company warranty.
Easy to clean and customize
The faux-sheepskin liner of this Bike Baskets can be completely removed and washed on cold (hang to dry).
Additionally, you can use the bucket with or without the cushion liner. As well as with or without the sunshade/rain guard.
This means this basket is natural for you and your dog to use year-round in most types of weather.
If you're willing to spend a bit more money, you can also get the Solvit 69996 Wire Safety Cage Top.
With this added feature, you can place your pet in the basket without needing to use the safety harness.
Even better, reviewers state that the sun cover coming with the first basket fits the safety cage's overtopping. Meaning that your pet will still be able to use it to be protected from the elements.
Even if you don't want to purchase the safety cage top. The leash the basket comes with is still a good option as it is adjustable. This means that, unlike many other baskets. With this one, you can choose how much freedom to give your pet when he's riding.
~ Cons ~
Difficult to install
One drawback of this bike basket is that many Amazon reviewers stated that they had difficulty installing it.
Most people report that once the basket has been initially installed, it is taking it on and off easily. To switch between pet-passenger and pet-free rides – is quick and straightforward.
Basket is quite substantial.
Given that this basket is woven wood, it is not the lightest option available. Empty, this basket weighs 4lbs. For riders recovering from an injury, or for newer riders that are less adept at balancing and steering their bike on varying terrain types. This basket may not be the right fit.
If you have a smaller pet under 10lbs, it okay. If you feel that the combined weight of the basket and your pet won't be a problem for you. Go ahead and try this one out!
—-