The canine backpack carriers are just the thing for when you're on the move, with a dog that may not be able to keep up.
Check out this selection of top-rated dog backpack carriers for your convenience.
All items listed here are dog backpack carriers that are supported by your back.
These canine backpack carriers are only for those with small dogs. Whose weight can quickly help the strain put on your shoulders and back, this style of carrier?
Looking for the other kind canine backpack carries? Check out our full article on dog saddlebags! 
Dog Backpack Carriers Quick Picks:
1. Zanies Casual Canine Backpack Carriers
About: The Zaines Casual Canine Backpack Carriers is a highly rated, mid-priced dog backpack carrier that can function in an airplane as an in-cabin carrier, or works just as well to traipse around town!

Product
Casual Canine Ultimate Backpack Pet Carrier with Optional Mesh Tent
Details
The Hands-Free Pet Carrier – Take your pet with you wherever you go with this backpack pet carrier.

It an optional Mesh Tent – Equipped with a front side that zips open to create a mesh tent area.

It is Rugged, Lasting Design – Constructed to last with 100 percent polyester with self-locking zippers.

The Added Storage ­– Includes extra side storage pockets for housing treats, toys, medical records.
Features: 
The Zanies Casual Canine backpack's front can be zipped open into a mesh tent area, giving your pooch more space to move.
The pack's side-storage pockets have plenty of spots to store your pup's odds and ends.
From poop bags and leashes to treats and chews!
This backpack carrier's mesh side door offers extra ventilation.
The removable mat can be toss in the wash for cleaning.
SIZING: Suitable for small dogs less than 22 lbs
Pros
Small dog owners love this dog backpack for ease of use and especially enjoy expanding screened mesh section.
Cons
Some reviewers find the straps too thin and wish for a waist strap to stabilize the dog backpack carrier.
2. Moloko Comfortable Canine Backpack Carriers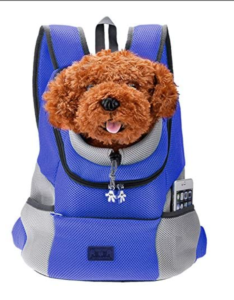 Product
Moloko Cat Dog Backpack Carrier, Puppy Pet Front Pack with Breathable Head Out
Details
Size M: 10.6″(L)*6.3″(W)*13.0″(H), recommend weight from 0.0 to 7.0 lbs.

The Durable & Comfortable Material is from breathable mesh and polyester fiber, lightweight. 

Adjustable Straps & Interior Drawstring: Adjustable padded straps help to reduce the burden.

Padding Panels & Removable Bottom Cover: With EPE foam padded back and sides, reducing the burden.
About: The Mogoko Comfortable Canine Backpack is a portable canine backpack carrier. Think Of The Floofs that's suitable for small and extra small canines.
Features:
The Mogoko Comfortable Canine Backpack carriers are solid materials.

It features a center hole for your dog to pop his head out.
The inside of the carrier contains an attachment that can be connected to your dog's harness to keep him firmly inside.

It comes with the pack and handy side pockets for quick storage.

These canine backpack carriers come in four fun and bright colors to match your style.
SIZING: Suitable for toy breeds or tiny dogs only (less than 10lbs).
Pros
Owners love allowing their dogs to poke their heads out of the canine backpack carriers hole.
Cons
This dog carrier backpack is only suitable for tiny (less than 10 lb) dogs.
3. K9 Sports Sack Air Plus Canine Backpack Carriers

Product
K9 Sport Sack canine backpack Carriers is front Facing.
Details
K9 BACKPACK FOR SMALL DOGS:
The design K9 SPORT SACK AIR PLUS is designed for dog breeds that weigh 30 lbs and less.
If your dog suffers from anxiety, depression, or have a physical disability? 
Maybe your dog is old or doesn't have the stamina for your next big adventure. Problem solved!
There are three available sizes to fit your Yorkie or larger sizes for your chubby Frenchie or Corgi.
​About: The K9 Sport Sack Air Plus is a high-end adventuring backpack designed to let you take your dog hiking, biking, or on any other activities you enjoy.
Features: 
This vet-approved adventure carrier is one of the few dog backpacks that can hold a dog up to 40lbs – finally, a pack suitable for larger-sized dogs!

The K9 Sport Sack also boasts wide, pressure-relieving straps and a padded back for the owner's comfort.

The ventilated sides It as well as breathability.

The five different 

keep your dog secure and safe on your journeys.

 

The pack's 20mm bottom rest pad and neoprene-lined leg holes ensure your pup's comfort.

And also, the K9 Sport Sack comes in three sizes specifically designed for different dog sizes, from short and squat too long and lean.

It also has side storage pockets for your gear and even a detachable storage bag to add more of your adventuring-essentials.

SIZING: Several sizes, with a max weight of 40lbs.
4.

Outward Hound PoochPouch Front Facing Dog Carrier

Product
Outward Hound Pooch Pooch Front Carrier for Dogs, Medium, Grey
Details
Your dog's height when seated and weight are the most important measurements when it comes to choosing.

Multiple sizes – ideal for carrying small (up to 10 lbs.) to select medium (up to 20 lbs.) sized.

Lightweight, mesh siding helps keep your dog fresh, Water-resistant nylon fabric for added durability.

An interior safety harness provides added security and comfortably clips to the dog's collar.
About: The Outward Hound Pooch Pouch Front Facing Dog Backpack relies on a front-facing design. That allows you to take your dog out and about while keeping him front and center. It's an affordable pack fit for any owner's budget!
Features: The Outward Hound Backpack Carrier features lightweight, water-resistant nylon fabric that is durable yet still cozy for your canine.
The backpack bag is designed to have a drawstring top and ventilated sides to give your dog plenty of air while keeping them secure. The padded shoulder and waist straps are fully adjustable and help distribute your dog's weight evenly over your back, adding stability.
This bag comes in two sizes – small (6.5″ L x 10″ W x 8″ H) and medium (8″ L x 11″ W x 10″ H). It's also available in blue and grey colors.
SIZING: The small version is suitable for dogs around 5lbs, while the medium works well for dogs under 20lbs (although realistically, more like 10lbs. Not ideal for tall dogs, as this carrier is short and wide.
Pros
Owners like the ventilation, padding, and durability of this dog backpack carrier.
Cons
Some buyers have difficulty selecting an appropriately sized bag for their pet. While the medium-sized backpack can hold dogs up to 20 lbs, reviewers note that their pets could not fit.
5.Pet Gear Roller Dog Backpack

Product
Pet Gear I-GO2 Roller Backpack, Travel Carrier, Car Seat for Cats/Dogs
Details
Five products in one; carrier, car seat, backpack, roller bag, and tote

The included leash can be attached to your pet's harness for extra safety

Telescoping handle stores out of the way, just like a suitcase.

All sides can expand to add 3 inches of additional space; features two side storage pouches for
About: The Pet Gear Roller Dog Backpack is a mid-to-high priced dog backpack on wheels that's ideal for adventures and trips out of town!
Features: The Pet Gear Rolling Backpack is five products in one, as it can use it as a dog carrier, dog car seat, backpack, roller bag, and tote.
The rolling dog carrier offers a telescoping handle, just like a suitcase! The sides can also be expanded for an extra 3 inches of space when your dog needs a bit more elbow room.
There's an inner rope that can attach to your pooch's harness and a removable inner mat that can be taken out and washed easily. The backpack also has two side storage pouches that let owners quickly access their dog's necessities.
This backpack comes in several colors – take your pick!
SIZING: Various sizes, suitable for pets 20 lbs.
Pros
It has an impressive functionality (between serving as a booster seat, carrier, and roller bag) and durable material.
Cons
Some complain that the dimensions and weight references are misleading. It is also misleading the official measurements refer to the outside of the bag because it includes the wheels. The inside of the carrier, some reviewers complain that the bag is uncomfortable.
6. Petsfit Comfort Dog Carrier/Backpack

Product
Petsfit Sturdy Hiking Pet Carrier Backpack for Pets up to 16 LB -Upgrade version
Details
Leash inside attaches the collar for pets to look out while safely tethered and removable and padded

Padded straps and chest/hip straps are comfortable to carry and adjustable for plus size humans

Front and top separate entryways to enter and exit quickly; Solid bottom doesn't collapse when used

The dog backpack carrier is collapsible to fold flat for storage and take out the mat squish to fit
About: The Petsfit Carrier/Backpack is a mid-priced product that features chest and waist straps so that you can better bear the weight of your four-footed hiking partner.
Features: This bag is designed for pets up to 15 pounds and includes a harness to keep your pet securely inside.
There are four mesh windows so your pet can get some fresh air as you hike. You can also easily open the top zipper so your pup can stick the head out. A zipper at the bottom of the bag allows for easy cleaning.
The straps are well-padded. A chest strap and waist strap help distribute the weight of your pet more evenly across your upper body.
SIZING: Suitable for small dogs under 15lbs
Pros
Pets enjoy all the zippers, which let them poke their head out to look around during a hike. Owners love how comfortable this bag is to carry.
Cons
Some owners expressed concern about the strength of the zippers, particularly the one along the bottom of the bag. They also thought some extra storage compartments would be useful.
7. Nicrew Front Dog Carrier
About: The Nicrew Carrier is an inexpensive, well-made option which allows you to carry your dog on your chest instead of on your back.

Product
Details
Easy on/off design for quick access and removal

Added mesh panels allow maximum accessibility and ventilation for your puppy

For extra comfort, we've widened the straps and added the shoulder pads

With this carrier, you can take your small dogs to have more adventures together
Features: 
The Nicrew carrier comes in 4 sizes: small (for dogs up to 5.5 pounds), medium (5.5-9 pounds), hefty (9-15 pounds), and extra-large (15-22 pounds).
This bag features 1.5 inch-wide, padded straps for your comfort. The straps crisscross across your back (or chest, if you prefer) and can buckle it in and out quickly.
Your dog rests in a breathable mesh carrier with his legs and tail free to move. There are velcro tabs that make it easier for you to get your pup in and out of this carrier.
SIZING: Suitable for dogs of max 22 lbs and under (different sizes for different weights available)
Pros
Pets feel secure in this carrier, and owners loved where they could go and what they could do with their pet in the carrier (crowded festivals, whale watching tour, and bike rides, to name a few).
Cons
Some owners were worried about the velcro coming undone. Others were dissatisfied with the fit, so it is essential to measure your pooch before choosing a size carefully.
8. PetAmi Deluxe Pet Carrier Backpack
About: The PetAmi Carrier Backpack is excellent quality with a very reasonable price tag, and even comes with a collapsible water bowl on a keychain!

Product
PetAmi Deluxe Pet Carrier Backpack for Small Cats and Dogs, Puppies
Details
It designs it for the maximum convenience and comfort for you and your pet while hiking, traveling.

YOUR PET WILL TRAVEL IN COMFORT – Well ventilated design for optimal airflow, two-way

DESIGNED WITH SAFETY IN MIND – Equipped with a firmly reinforced structure to prevent itself fro

SUPERIOR COMFORT, FIT, AND CONVENIENCE –
Features: This carrier backpack is made of polyester and comes in a variety of colors. The sides are reinforced, creating a solid structure measuring 12.5" x10.2" x16.3", enough space for a small pup to move around a bit.
The sides have mesh windows. The front mesh window can zip down to give your pet a better glimpse of its surroundings. The sides zip open completely. The interior bottom is in line with sherpa (the same material used in many dog beds).
The bag has thick backpack straps and thin chest and waist straps to help take some weight off your back. For your convenience, there are three exterior storage pockets.
SIZING: Suitable for small and medium-sized dogs up to 18bs.
Pros
Nearly all customers were satisfied with this product, commenting on how well-constructed and sturdy it is. Some remarked that it is very convenient for airplane travel.
Cons
Some pet parents complained that their pup was too tall for the bag, so you may want to measure your dog carefully before purchase.
9. Texsens Traveler Bubble Backpack Pet Carriers
About: The Texsens Pet Carrier Backpack is a bit pricey, but has a unique design and is an especially great option for owners who need a carrier that is airline-friendly.

Product
Texsens Cat Backpack Carrier, Super Breathable
Details
Pet carrier dimensions:12.4" L x 9.1" W x 14.6" H. Fits pets up to 9 pounds cat and 7 pounds dog…

Backpack material: The primary material of the backpack is canvas, which is more transparent

Semisphere window :Besides all the functions of the regular pet carriers

Add a unique feature: The semi-sphere has two conversions mode,the the plastic shell the backpack
Features: This carrier has reinforced sides made of synthetic leather and comes in several different colors. The bag measures 12.99" x9.05" x15.74" and can be used comfortably with pups up to 8 pounds (although an 11-pound dog can fit).
The bag has a small ventilation screen on either side of the bag and several air holes. It features a bubble window (diameter 6 inches) in the front. This window can be removed and replaced with a screen window (sold separately).
There are two ways to carry this bag; you can use either its thick padded backpack straps or the sturdy handle on top of the bag.
For your pooch's comfort, there is a removable, washable pad at the bottom of the bag.
SIZING: Suitable for dogs 8lbs and under.
Seeking to Save Cash? The "Up & Away" Dog Backpack from Think Of The Floofs is basically the same product as the Texsens carrier, but cheaper (although fewer color options)!
Pros
Overall, owners were delighted with their purchase, finding it to be durable enough to hold their pets while traveling, and cute to boot!
Cons
Most people who reviewed this product bought it for a cat. That said, it is still an appropriate carrier for a small dog, and the few dog owners who purchased it were content.
For other styles of pet carriers, check out our posts on dog purse carriers, dog slings, and dog bike baskets.
That concludes our list – have you tried any of these dog backpack carriers? What was your experience?
Our carrier seamlessly converts into a backpack, wheeled carrier, car seat, and pet bed, so you can bring your dog or cat just about anywhere.
The Roll Around Pet Carrier Backpack is a dog, cat, and pet carrier that makes traveling with your pet easy with this 4-in-1 design.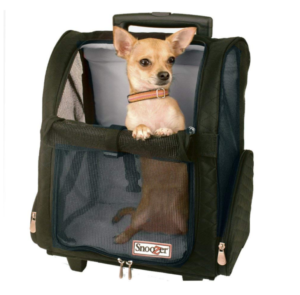 products
The canine backpack carriers, with the handle.
When pushed all the way down, the outside of the medium carrier is 20 inches tall from the top of the unextended handle to the bottom of the wheels.
It 13 inches wide, and 10 inches deep. When raised, the top of the telescoping handle is 38.5 inches from the ground.
For your pet's comfort, the inside of the medium carrier when zipped closed is 15 inches tall at its highest point (12 inches tall at its lowest point), 11 inches wide, and 7 inches deep.