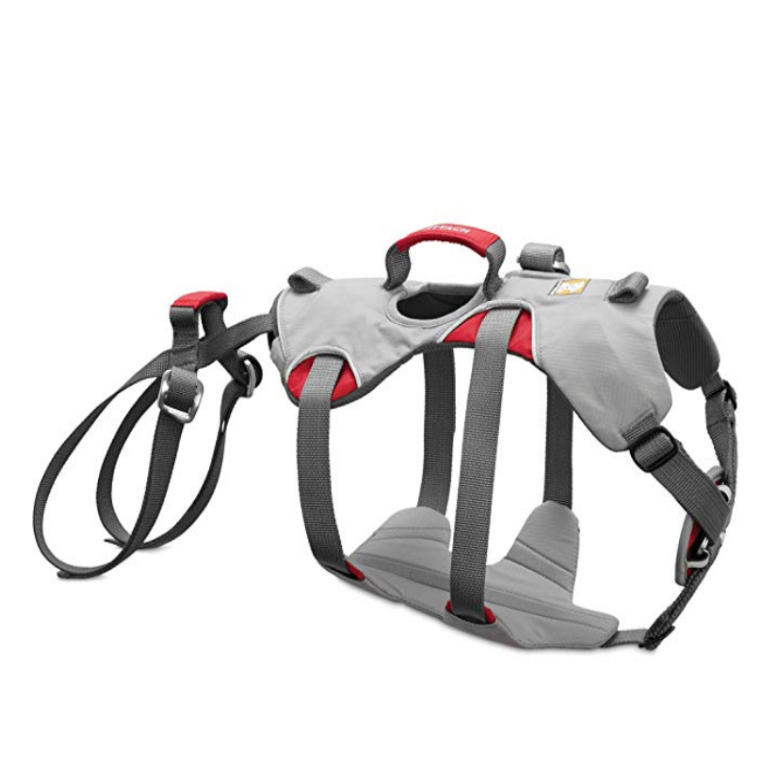 Many dogs don't seem to mind wearing a harness but are they Chew Proof Dog Harnesses? But others find them to be uncomfortable enough that they chew on the harness to escape.
Owners of these types of pups frequently come home to find a naked dog and the tattered remains of a harness on the floor. If this sounds familiar, you'll want to use a chew-proof dog harness, such as one of the five detailed below.
But before we get to specific products, let's examine some of the characteristics of proper harnesses, and some of the features that give a harness a good chance of surviving your dog's teeth.
Quick Picks: Best Chew-Proof Harnesses
Pick #1:

Ruffwear Front Range All-Day Harness

—

Most Ruffwear harnesses are excellent products and the Front Range All-Day Harness.

Made with high-quality materials and an ergonomic design, this is an excellent chew-proof option for many dogs.

Pick #2:

Rabbitgoo No-Pull Pet Harness

—

The Rabbitgoo No-Pull Harness is tough as nails and fits most dogs very well. And it's not only a well-made product, but it's also one of the most affordable harnesses on the market.

Pick #3:

BlackJacks Leather Premium Harness

—

Made from premium quality leather, the BlackJacks Harness is incredibly durable. It should be very comfortable for your dog to wear. This kind of quality comes at a price, but owners who're willing to cough up the cash will undoubtedly be happy with this harness.
Continue reading for more in-depth reviews.
What Are the Basic Things to Consider When Purchasing Any Harness?
Your dog's harness is more than just an accessory – it's a tool that keeps him safe.
Some of the things you'll need to consider include:
What Style Harness Do You Want?
There are several different harness styles, each of which has its own pros and cons. Some of the most common methods include:
Back-Clip Harnesses

– Harnesses that clip on the back is best for well-behaved dogs, who

walk well on a loose leash

and are unlikely to pull. They are relatively easy to use without tangling, and they make it easy to attach or detach the strap.

Front-Clip Harnesses

– Allow you to draw on your dog's chest, rather than his back. Front-clipping harnesses are ideal for dogs that require a little additional direction during walks. They are also quite helpful for stopping pulling behavior, and they allow you to turn your dog when necessary. They can, however, entangle your dog's feet pretty quickly if you're not careful.

Dual Clip Harnesses

– Dual clip harnesses offer both worlds the best, as they allow you to clip the leash to your dog's chest or back. That means you can give your dog a little more freedom. When running around in the open. Keep the dog on a shorter leash. If you'll pardon the expression when navigating a busy city sidewalk.

Constrict Harnesses

– Constricting harnesses are designed to tighten when your dog pulls the leash. They typically attach to the leash at the back and help save you from being dragged all over the neighborhood several times a day. However, these harnesses should only provide pressure; you must avoid any constricting harness that causes your dog pain.
Different manufacturers use different designs for each of these basic categories. One manufacturer's back-clip harness may not work for your dog. Another manufacturer may make the perfect back-clip harness for your pup.
Does the Harness Provide Additional Visibility?
Many of the best harnesses feature reflective patches or stitching, which will make you and your dog more visible during nighttime walks.
More importantly, reflective harnesses can provide more protection for your dog. In some situations where you can't protect the dog. Such as if the dog runs out of the house unexpectedly or pulls the leash from your hand.
Does the Harness Provide a Proper Fit?
You always want to make sure the harness you use fits your dog comfortably and securely. Some designs are inherently better suited for some breeds than others. It's essential to review the manufacturer's information and sizing guidelines carefully before making your purchase.
It also bears mentioning that you may be able to put an end to your dog's desire to chew his harness by providing him with one that fits better. This may reduce some of the discomfort he feels, which may free him to focus on other things.
Dogs vary in their preferences, so don't be afraid to experiment with different styles before making your purchase.
What Kinds of Things Make a Dog Harness Chew-Proof?
Let's go ahead and be clear that no harness is entirely chew-proof.
You'd have to make a harness out of some type of metal, a super-durable plastic or Kevlar to make it strong enough to withstand your dog's jaws and teeth. Yet, harnesses must be made from flexible enough to comfortably fit your dog's body and soft enough to prevent chaffing. These needs are clearly at odds with each other.
But some harnesses are definitely more resistant to chewing than others are. Many of these exhibit one or more of the following features:
Strong Materials
Again, you won't find harnesses made of truly chew-proof materials. Still, some fabrics and fibers are more reliable than others. There are several durable materials used in different dog harnesses. Still, rip-stop nylon, canvas, and denim are a few of the best.
Out-of-Reach Straps
Different harnesses place their straps in different places, and it makes sense to use a model that places their belts in areas that are difficult for your dog to reach.
Dogs can reach most of their body with their mouth, but the neck, shoulders, and chest are often the most challenging areas for them to access. Try to envision your dog wearing each of the harnesses listed below. Select the one with the most inaccessible straps.
Durable Hardware and Fasteners
Dogs who find it difficult to chew through the fabric of a harness will quickly turn their attention to the harness' fasteners or hardware. Metal hardware is generally preferable in this regard, but most harnesses feature plastic clips and clasps.
Nevertheless, several premium harnesses use relatively durable plastics in their connectors, which will survive some degree of chewing.
5 Best Chew-Proof Dog Harnesses: Tough and Durable
The following five harnesses are among the most durable available. They're more likely to stand up to your dog's dental damage than most others.
Ruffwear Front Range All-Day Adventure Harness
The Ruffwear Front Range Harness is not explicitly marketed as being chew-proof. Still, it is made from very durable materials. Most dogs love the way it fits and feels.
Product
Details
MADE FOR EXTENDED WEAR: Lightweight, durable, and made for all-day outdoor adventures; Designed for…

2 LEASH ATTACHMENT POINTS: Reinforced webbing at chest stands up to pulling and gives additional…

PADDED FOR COMFORT: Foam-padded strips across the chest and belly provide equal load distribution…

CUSTOMIZABLE FIT: 4 convenient points of adjustment for a full range of motion; Easy access ID pocket…
The Front Range Harness is designed to keep your dog comfortable for long periods, such as extended walks and hikes.
Features:
Reflective trim and ID pocket help improve your dog's visibility to motorists

Features two leash clips: An aluminum V-ring on the back and a reinforced webbing loop on the chest

Padded chest and belly panels offer the most possible comfort for your pooch

Available in five sizes and ten attractive colors
PROS
Generally speaking, most owners absolutely loved the Ruffwear Front Range Harness and noted that it was durable, great-looking, and well-made. Most dogs appear to find the design and materials comfortable, even when worn for long periods.
CONS
Some owners of long-haired dogs found it necessary to select a size larger than the manufacturer's guidelines suggest. Other owners were slightly disappointed that they needed to tighten the harness's neck loop after sliding it over the dog's head to achieve a genuinely snug fit.