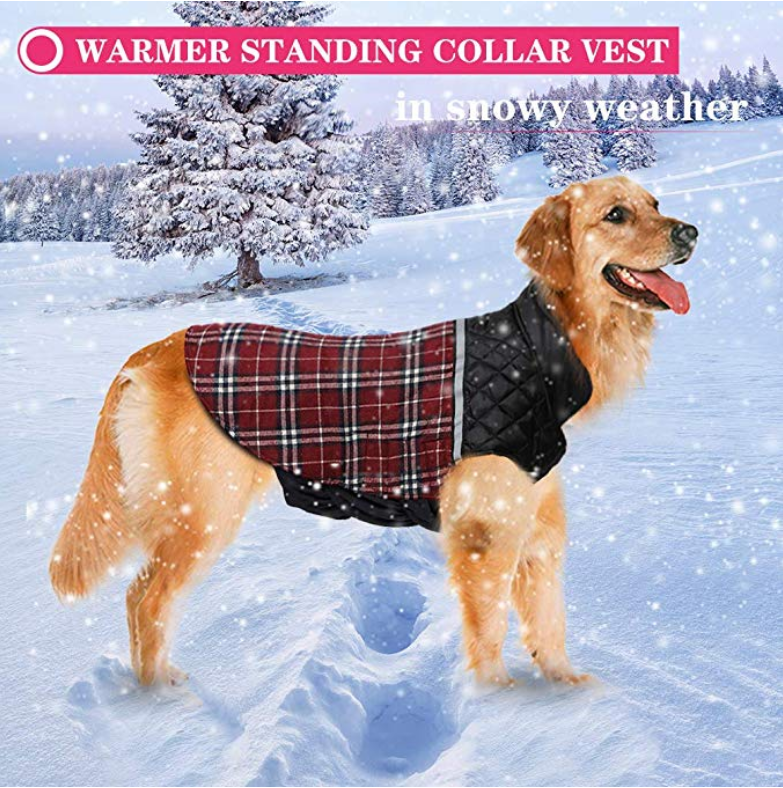 While having a sizeable four-legged companion has its perks. One consistent challenge is finding Coats and Jackets For Large Dogs. And accessories that fit your jumbo dog well.
This is especially true for dog jackets. There are so many options available for small to medium-sized dogs, but limited options for larger dogs.
To help you find the right jacket, we've searched high and low to find the best coat and jackets for large dogs.
But before we get to the specifics, below are the top things to consider when purchasing a dog jacket for a hefty canine:
Top Factors To Consider When Purchasing a Dog Coat
Does your dog really need a coat – if so, which kind?
Lately, dog coats have become something of a fashion statement.
Coats in different colors and patterns are popping up all over the place. While they certainly make our dogs look cute, this trend also begs the question – does your dog even need a coat?
Coats and Jackets For Large Dogs
Large dogs, mainly breed made to withstand cold temperatures (like Huskies or German Shepherds), may be able to go without a winter coat.
However, if your dog has short hair (like a pit bull), is older, or is sick, a coat may be a good idea because these factors can make your pup more susceptible to cold.
A raincoat is something that almost any dog could use at some point regardless of the temperature. A raincoat keeps your four-legged friend comfortably dry on a rainy day, but the coat will also protect your pup from getting covered in so much dirt and muck.
No more worrying about ruined furniture and mopping the floors after coming in from a pleasant, damp stroll!
What are your dog's measurements?
In an ideal world, we'd all be able to take our pups to the local dog coat store and try on every available style right then and there. Instead, we turn to the internet, where we depend on customer reviews and product descriptions to make our decision.
Knowing your dog's measurements will make your selection process much easier – just make sure you're measuring in the right spots!
Measure around your dog's neck, the thickest, and the length from her collar to her tail.
Here's a quick video that illustrates how to take a few necessary measurements:
Keep this information handy as you click through available options because sizing is inconsistent across brands and styles. This is especially important for large dogs with thicker and sometimes trickier measurements.
What dog jacket style makes sense for you?
Dog coats come in many different styles that range from a blanket type jacket that predominantly covers your dog's back, all the way to a full-coverage style jacket that also protects your dog's legs and underside.
It can be challenging to find a full coverage jacket that fits comfortably around your big dog's more substantial dimensions, so this option is harder to find.
Instead, you're more likely to see blanket style jackets or mid-coverage styles that cover the back and middle but still allows for free movement of your pooch's four legs.
The only situations in which you might seek out a full-coverage jacket is if you hike with your dog in deep snow or if your dog is older and can't withstand cold temperatures, even for short periods.
What is your dog coat budget?
Dog jackets range from $10 for a low priced jacket to around $40 for a higher-end jacket.
The jackets with the best reviews seem to fall squarely in the middle of this range, indicating that a higher price doesn't necessarily mean a better coat. To get the best jacket with the most top reviews, expect to spend at last $20.
Once you've considered these four questions, let's take a look at the various coats on the market that will fit your large furry friend!
Coats and Jackets For Large Dogs
The dog Jackets/Sweaters Winter Clothes Reversible 2020 Updated Style Waterproof Dogs Cold Weather Coats Warm Dog Vests for Winter Dogs Apparel Down Dog Jackets
The Features of a dog winter coat:
1.Oxford material outer, Polyester+TC (terylene/cotton) Soft and Warm Inner Layer, windproof and waterproof warm clothing dog jacket for winter and autumn
2. This dog jacket comes with an adjustable belly strap and a back reflective strap for a secure and comfortable fit, easy to put on and take off
3. It comes with cotton velvet dog cloak dog jacket dog coat vest, warm and comfortable, no sense of restraint for cold winter, keep your dog far away from cold in snow raining day
4. It a brand new design dog jacket vest cloak with bright color, make your dog stand out from dogs, bring you a good time play with dogs
5. The dog coat is specially designed for small to medium-sized dogs to protect your dog far away from cold, keep him or she warm in whole winter
Some Characteristic of the Jacket
This product is reflective Design for at night, the lights hit the reflective portion of the dog coat, it will shine, travel at night to protect the safety of the dog
The New Trend of 2020 Newest Dog Jacket, British classic plaid style double wear dog coat – With soft and warm Inner Layer and water resistant outer layer Dog Down Jacket Dog Clothes Waterproof Windproof dog vest
The Chest widen magic sticker closures design(3in) + elastic chest design can stretch(4in)= about 6-7 inch Abdominal stretch peace, neck magic sticker closures design can increase neck girth 4 inches, which allowed you adjust dog jacket to fit your dog size perfectly, let your dog have a Comfortable Abdominal and Neck Wear Experience