As the years go on dog car barriers are becoming more popular. The world is becoming more and more pet friendly. Besides dog parks and walking your puppy around for exercise, you'll probably find yourself taking your dog with you everywhere.
Even your every day errands is easier than ever. The more you take your dog places, though, the more you'll realize all the risks. That comes into play with your dog in your car.
Keep Your Safe With A Dog Car Barriers
To keep both him and you safe, you may find dog car barriers is an absolute must for you. If you're on the road with your pet often, check out our lists of the best dog car harnesses,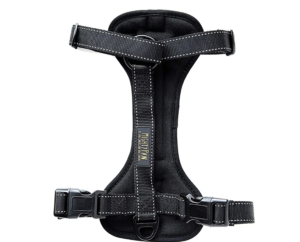 the best dog seat belts,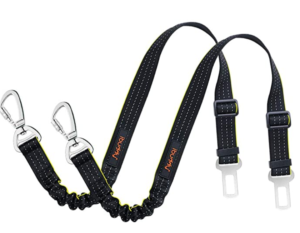 and the best dog travel crates to find the perfect solution for your pet.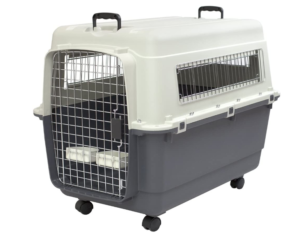 After reviewing dozens of dog car barriers to identify the best of the best. We looked at temporarily installed obstacles and for the dog that goes everywhere. We choose one that can be permanent fixtures.
Then we picked the best soft mesh barriers. And the best heavy-duty installs for your bigger or more enthusiastic dogs.
Early in our research, we determined that there was a clear winner for the top pick, the Lifefair Car Seat Cover for Dog
. It's easy to install, and it covers your seat entirely. Which is an excellent bonus for your seat protection, too.
Our Top Pick:
Lifefair car seat cover for a dog
The Lifefair car seat cover for a dog is the perfect dog car barrier for an installation that can be long term and versatile.
It's particularly practical if you're planning on taking your pup with you frequently. It has passengers you want to keep transporting. You can convert the hammock-style barrier into a simple car seat cover. By releasing and folding the front panel and loop it in place, draping the backbench.
Once you do so, it will no longer be a dog car barrier. But will still protect your seats when your kids are on board. In fact, if you have kids and dogs, this is an ideal set up for you.
The hammock-style will secure to the driver and passenger seat headrests. Along with the headrests of the back seat with latches. Making sure the hammock isn't going anywhere.
The fabric of this hammock is waterproof and contains a stain block that will help make clean up a piece of cake. The backing of the material has a non-slip rubber grip.
And the quilted construction is lined with thick and soft Polytech fill, so your dog will be ultra-comfortable.
And even if he's a scratching dog, the Ripstop lining will keep him from tearing through.
This double-duty dog car barriers and seat cover will keep your pup out of the front seat. And create a safe haven of space that is all his own. And with over 450 customer reviews and an Amazon rating of 4.5 stars, you can feel confident in this purchase.
Lifefair Car Seat Cover for Dog Hammock with Mesh Window
Key Features:
Waterproof, non-slip backing

Convertible with seat belt openings

Upgraded Visual Window

2-year warranty
Who Should Buy a Dog Car Barriers
If you've ever had a dog jump into the front seat while driving, you know precisely why dog owners need a car barrier.
If you don't confine your dog to a crate while traveling in the car, a fence is a necessity for all dog owners. Even a well-behaved dog will want to be close to you, so a barrier will take away the need for any of the training for you.
Should your less than well-behaved dog be resistant to break this habit, the fence takes away the constant fighting with your fur baby.
He may whine still, but you won't have to actively fight him, and that's a win. Not only is the barrier necessary to prevent your struggle to avoid annoyance. But it's also essential for your safety.
Keeping your dog in the back without a restriction will allow you to become distracted. And less likely to respond to the surprises on the road.
Tossing a little pup back into the back seat. Or wrestling your bigger dogs while driving isn't safe for anyone. So avoiding it before it happens is definitely preferable. And, should the worst happen and you be involved in a car accident! The barrier can keep your pup from being thrown into the front of the vehicle. Worse, through the window.
Important Features to Consider
A dog car barrier should do several things well. Here's what to consider when selecting a car barrier for your dog:
Seat protection.

This is a feature that will make the gate pull double duty. But you'll also be able to look for waterproof barriers. That way, you'll provide your pup with a little water on long road trips. This way, you do not stress too much about how destroyed the seats will be after. And even taking that aside, any car anxiety or sickness (or just simple slobber) will be an easy clean-up with a removable and full-cover car barrier.

Universal fit.

An adjustable barrier will help you fit whatever type of vehicle you own, but it will also make it portable. So you'll be able to take your pup in any car you own or will own. While you're picking out a universal barrier, make sure you're picking one that won't damage your vehicle while installed.

Scratch and tear resistance.

No matter what type of car barrier you get for your dog. You'll want to keep in mind that putting a dog in a car often makes them anxious or excited. And excited and anxious dogs tend to scratch; maybe even chew.

Location, location, location.

You'll need to keep in mind that location of your dog matters when you choose your barrier. If you plan on keeping your dog in the backseat, then a simple wall to keep your pup from hopping into the front could be all you need. Even obstacles that are a universal fit for all cars aren't necessarily "universal" within those cars.

Soft vs. hard.

A thin barrier is one that will likely be easily and quickly installed by just a few quick loops or ties to secure it to your car. In all probability, even last-minute, heavy-braking won't tear down the soft barriers should you have little dogs. (Nor will it tear down if your bigger pup is restrained with a safety belt.) These barriers are only as good as their install, so you'll need to make sure that you're securely tightening it down so that it won't wiggle at all. Remember, if it shakes for you, then it will wag for your pup, and that means he may scratch and dig at it to try to get to you. And in the event of an accident, that wiggle may be just enough to allow the dog's weight to crumble the installation.

Non-slip.

You'll always want to have your dog travel on a non-slip surface to prevent injuries. This may not apply to all types of purchases with car barriers, but even if it doesn't, you'll still consider taking precautions.

Get the right fit.

Size and type of barrier will need to be determined by what kind of vehicle and type of dog you have. Some manufacturers offer factory-installed pet carriers for the cargo area, so you'll be sure to get a perfect fit, but that's not common.
Frequently Asked Questions
What is a dog car barriers? How does it work?
A dog car barrier is a block that will restrict your dog's movement within your car. It can limit him to a specific area, like a hammock-style that will confine your dog to a spot that will become his one area.
That style is a sort of blanket that you secure to the headrests of the front and back seats. Some of these will have sides that will also protect your doors from your eager pup and are worth a look. Especially if he's able to roll the windows down.
A dense duty barrier is a grating pattern of wire, tubes, bars. Some other durable construction will keep your bigger dogs secured. The installation is a bit more long-term.
A mesh barrier is high for littler dogs who like to try to squeeze through the gaps left in heavy-duty barriers. And will go in and out of the car is a breeze. You can get walls that fit universally, so if you purchase a quality barrier, you may only need to invest in one barrier for your entire life.
How do I know if a dog car barriers will fit my vehicle?
Luckily, most dog car barriers for your pup are a universal fit. They will have areas where you can adjust and tighten to make sure the fit is snug and secure. And you can be confident your furry family member is safe.
But even with that being the case, you'll still want to take measurements to be sure if the car barrier you have in mind will fit in your vehicle before purchase. Although not as common, some walls are not adjustable and will only work in some vehicles.
That may mean the fit will be a bit more secure, but you'll need to be much more careful with your selection. You may even want to call the manufacturer to ensure your specific car is a good fit for their barrier.
Does my dog need a heavy-duty dog car barrier?
The reality of whether or not your dog needs a heavy-duty car barrier depends on how well your dog behaves. But also how big he is. If you don't have to worry about him jumping out of his designated area.
A smaller breed, you may be able to get away with a soft car barrier like netting or mesh. Keep in mind that accidents do happen. If your car has no fence, your dog may fly through the window with a sharp brake.
You may also have an individual restraint that will mitigate the risk for your pup. Should there be an accident? If you secured the seat with a doggie seat belt. Then you may be able to forego. The heavy-duty barrier, even if the dog is a large breed.
(Check out our list of the best dog seat belts to find the right one for your dog.) On the other hand, without restraint, even your little dog can master an escape. You may benefit from a heavy-duty barrier. As long as it doesn't have space for him to crawl through the bars.
Do dog car barriers pose a safety hazard?
In most cases, the dog car barrier prevents safety hazards. The distraction of an unsecured dog alone is enough to make the driver unable to respond to other concerns on the road. Even if your dog isn't anxious or excited about a road trip.
Though is he even doesn't get excited about a road trip?. Your dog will still want to be nearer to you. A barrier that makes getting in your lap impossible may not help the whining.
But it will help your struggle to understand why he can't be in your lap while you drive. For better-behaved dogs who will actually sit when told. Good job, dog parents who train their dogs to listen.
We still struggle daily with that, in the event of a car accident, a barrier will protect both you and your dog.
You'll want to be careful that when you install it, it won't decrease visibility for the driver. That means you'll need to make sure you purchase a barrier that doesn't entirely block your vision.
That means a reliable, full panel, which may be ideal for keeping your dog restrained.