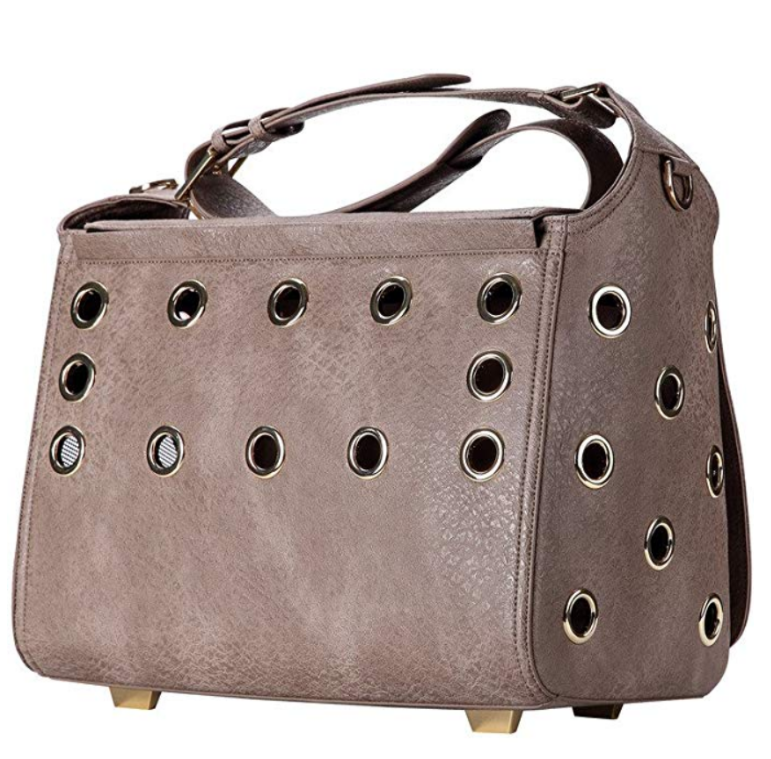 Pets are more than a furry friend, which is why so many people use dog carrier purses. They're a part of your family, and who wants to leave their cuddliest member at home?
Dog carrier purses let you travel across the globe or take your dog on a lunch date. If you're worried about getting a few stares, today's dog carrier purses disguise your little bestie with style.
Dog Carrier Purses Take Fashion To A New Extreme.
These carriers take fashion to a new extreme that includes plenty of storage and organization. Fixed leashes, ventilation panels, and zipper protection, so you don't accidentally catch fur when you're in a hurry.
We reviewed dozens of dog carrier purses to identify the best of the best. Airlines approve models with the best breathability as well as the carrier purses that are easy to clean. Of course, we couldn't research carrier purses without an eye for fashion. You need plenty of room for your pooch, but you can look fabulous while you do it.
The BETOP HOUSE Pet Carrier beat out the competition with its sleek design and choice of sizes. Mesh paneling provides plenty of ventilation for your dog. Still, you've got the option of disguising everything with flaps and the little details that take it from carrier to fashion accessory. It's hard to beat a carrier with both a shoulder strap and carrying handles. There are just so many ways to carry and use this bag, making it a clear winner.
What Structure To Choose for Your Dog Carrier Purses
The rigid structure gives your dog some wiggle room, including a removable bottom for easy cleaning. However, it doesn't feel like you have a hard-shell dog carrier on your hip.
They both feature fade-resistant faux leather in a stylish check pattern. Both the large and small have carrying handles and a removable shoulder strap for when you need to travel hands-free. If you're worried about your dog jumping (or sneaking) out when you're not looking, it includes an interior safety leash. Finally, they both feature exterior storage with a front snap pocket and a hidden zipper pocket in the back for a cellphone, keys, and ID.
The BETOP is truly designed with your pet's comfort in mind. The small, which fits dogs up to 8.8 pounds, has two mesh ventilation panels while the large, which provides dogs up to 12 pounds, has one mesh ventilation panel and three ventilation holes on the opposite side. The large also has a double layer top closure with a mesh or covered option. Both sizes look fantastic, are versatile, and keep your dog safe and comfortable.
Who Should Buy a Dog Carrier Purse
For many people, leaving their beloved pets at home can be anxiety-inducing. Do you want some more discrete than a dog carrier backpack? A full-on dog carrier purses can take your pup with you for a day trip or travel further afield.
Dog carrier purses are also a great way to tote your pet along on your daily adventures. Airline-approved carrier purses can go through security, with some models being small enough to fit underneath an airline seat. However, check the dimensions with your preferred airline before committing as each airline is different.
But dog carrier purses walk the line between utility and fashion. Many of them have details that make them far more than a pet carrier. Faux leather, contrasting stitches, patterned liners, bows, and quilting turn the corner and make these carriers a statement piece that the fashion-conscious will love.
Important Features to Consider in a
Dog Carrier Purse
A dog carrier purse should have a few essential features. Here's what to consider when selecting a dog carrier purse for your dog:
Purse versus tote. The distinction between the two styles can be hard to detect at times, and it doesn't really matter except in appearance and how you want to use the carrier purse. "Purse" models look more like a traditional purse with a zippered closure, design features like bows, hardware, and quilting. Totes usually have a cut out for the dog's head and an open top.
Dimensions and weight limits vary from purse to purse. But what's important is that the bag is big enough for your dog. Measure your dog from chest to tail for length and floor to the top of the dog head for height. Many manufacturers also include a maximum weight limit simply because weight usually corresponds with size. You don't want your dog to be squished. At the same time, you don't want him rattling around in a purse that's far too big.
Fixed leash. Some dogs may not like to ride in a carrier purse, while others may want to explore if you stop moving. A fixed leash helps keep him safe and in place while you travel.
Airline-approved. Carrier purses that are airline approved meet FAA standards for carry-ons. However, check with your airline if you plan to stow the bag under the seat.
Ventilation panels and/or holes. The more ventilation, the better, whether it's mesh panels or holes.
Pockets and storage. Many dog carrier purses can function as a regular purse with pockets and storage for your wallet, cellphone, and dog treats.
Carrying options. Carrying handles are beautiful, but models that also include a shoulder strap provide an extra hands-free option.
Frequently Asked Questions when buying a
Dog Carrier Purse
What is a dog carrier purse?
A dog carrier purse is a dog carrier that's small enough to be carried on your shoulder via carrying handles or straps. Dog carrier purses are designed to look more like a purse or tote than your average dog carrier, which disguises the precious cargo. Most are made for dogs under 15 pounds, with some specialized for breeds under 10 pounds and between 15 to 30 pounds.
Is my dog too big for a dog carrier purse?
That, in part, depends on the size of your dog. There are dog carrier purses made for dogs up to 30 pounds. However, it also depends on your dog's dimensions. A tall, skinny dog may be under 30 pounds, but he might not fit within the confines of a dog carrier purse. You 'll have to measure your dog and compare his dimensions to that of the dog carrier purse.
Can I take a dog carrier purse on a plane?
Yes, you can, but it should be an airline-approved model. These models are designed to meet FAA regulations, and many fit underneath an airplane seat.
Where can you take your dog in a carrier purse?
You can take a dog carrier purse anywhere you can carry it. Hiking, to the beach, on a plane, out to dinner—you're really only limited by how much weight you can comfortably carry and locations that allow dogs.
Clover Pet's groundbreaking design and proprietary collections are a great way to provide your pets with the luxury they deserve. The brilliant design, premium materials, and stunning craftsmanship. Which will catch people's eyes as you walk on the street?
Founded in 2016, Clover Pet was developed by animal lovers and pet industry experts to revolutionize the pet-owning experience. They are dedicated to bringing top of the line quality for their pets and pet-parents.
It perfect for travel and hiking. Spacious inner space and soft fleece bed keep pets to stay in the carrier comfortably. Plenty of ventilation holes and mesh allow the air to circulate.
&Mobile pet bed, in-cabin airplane carrier, and car seat all in one, Adjustable backpack straps and carrying handle make our carrier easy to attach to a seat belt. Approved on most major airlines.