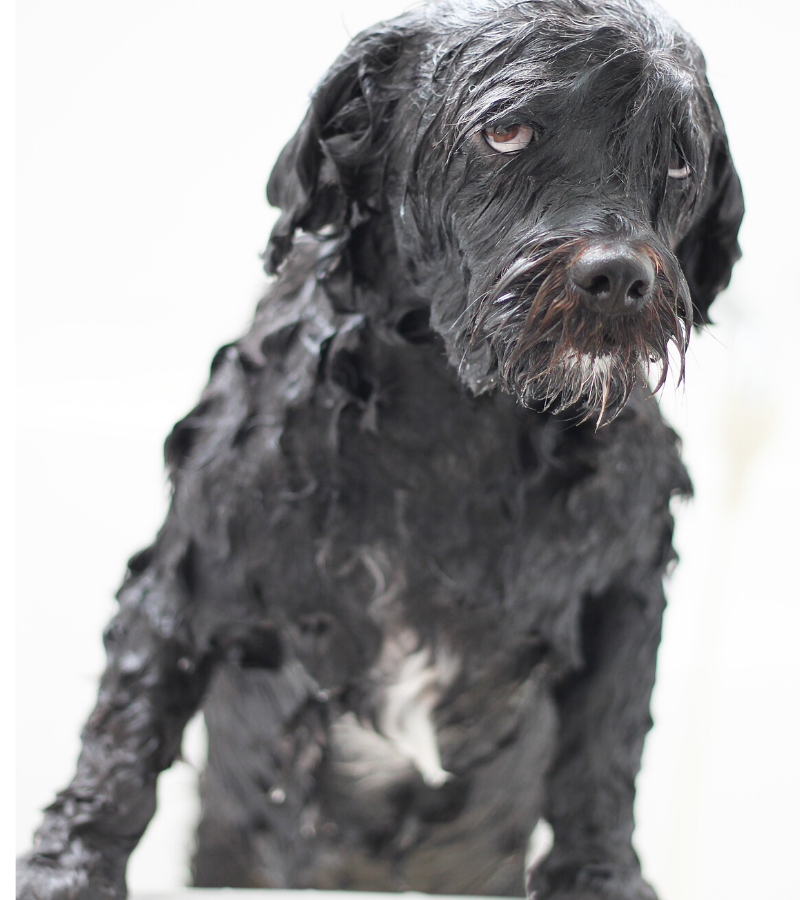 Do you know how to make bath time easier for your dog? Does your dog hate the bath? You're not alone. Many dogs find bathing scary, but there are some things you can do to make the process less stressful for you and your dog.
How to Make Bath Time Easier For Your Dog
Before we get into the tips, I want to make one thing clear — fear is tough to manage. I'm not going to lie and guarantee that these tips will immediately have your dog jumping for joy every time bath rime rolls around. Nothing's quite that simple, and much of it depends on how fearful your dog is off the bath.
An older dog whose been afraid of bathing for years will be tougher to keep calm than a young pup who doesn't have years worth of anxiety to overcome.
But the one thing they all have in common is that they will overcome the stressful, and over time you'll start to see a difference in the way your dog reacts to the bath.
Here's how to make bath time easier for your dog.
Prepare Your Supplies Beforehand
When it comes to making bath time easier on your dog, one of the most important things is to prepare your dog. That includes having your shampoo, towels, a cup for rinsing, and any toys or treats you might use ready to go beforehand.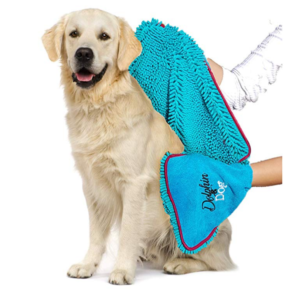 If your dog's already nervous in the tub, they're going to get even more stressed out if you leave them alone in that scary place while you go to grab those towels you forgot.
Fill The Tub Before Your Dog Gets In
Another way to make things a little less stressful for your dog is by filling up the tub with warm water before they get in. The sound of running water might sound mundane to us, but for dogs who hate the bath time, that noise (and all splashing water) causes a lot of extra stress.
Make Sure Your Tub is Non-slip
Does your dog slip and slide around when they're in the tub? If so, you're going to want to make sure you create a non-slip surface for them. It's scary losing your footing in the container, and that fear is the same for dogs. So before you give your dog, a bath makes sure the bottom of your tub is non-slip.
If you don't have a mat (or any non-slip materials on your tub floor) that prevent slipping, you can layout a thick towel for your dog to stand on.
Use a Cup For Rinsing (If Your Dog is Afraid of the Faucet)
If your dog isn't a fan of the bath, chances are they're not going to like being rinsed off with the faucet or showerhead either. They're rather noisy, and the addition of all that extra water splashing around can make dogs nervous.
I prefer using a cup to do the rinsing since it's quiet and less imposing. A cup also gives you better control when it comes to preventing water from getting into your dog's eyes and ears.
Be Gentle When Washing Your Dog's Face
When it comes to making your dog comfortable in the tub, remember to keep their eyes, nose, and ears protected. If your dog is already stressed out, getting water in their eyes or ears is just going to stress them out even more. Using a washcloth will give you better control and make it easier to prevent water from splashing into their eyes, nose, and ears.
Use Toys or Treats in the Tub
One of my favorite tricks for making bath time less stressful for my dog is by using toys or treats. Depending on how fearful your dog is, you might need to use high value treats to keep them distracted.
My favorite distraction technique is the peanut butter trick. Still, if you don't want to smear peanut butter in the tub (completely understandable), you can simply hand out regular dog treats throughout bath time or use a toy that floats like the Max Glow Ball (Laika's personal favorite).
Exercise Your Dog Beforehand
If your dog hates bath time, one way you can help is by exercising them beforehand. Exercise alone won't make your dog suddenly love the bath, but it can be calming. And any activity, whether it's mental or physical, can help them burn off some extra energy.
Will it burn off enough energy to prevent them from going crazy and getting to zoomies after a bath? Probably not — I'm not sure that reaction ever goes away. But you are giving your dog an excellent workout before bath time can make things easier for both of you.
Get In The Bath With Your Dog If They're Nervous
If your dog is terrified of the bath, you can help ease stress by getting in the tub with them. I'd put on a bathing suit and just sit down next to her during the entire process.
It didn't make her start jumping for joy every time bath rime rolled around, but it did make a noticeable difference when it came to her nervousness. She stopped trying to escape, she stopped whining, and after each bath, she began to relax more and more.
Get a Helper If You're Stressed Out
If bathing your dog stresses you out, chances are your stress will rub off on your dog. You can make things easier on yourself (and your dog) by asking a friend or family member for help. They can work on keeping your calm while you work on the bathing part or vice versa.