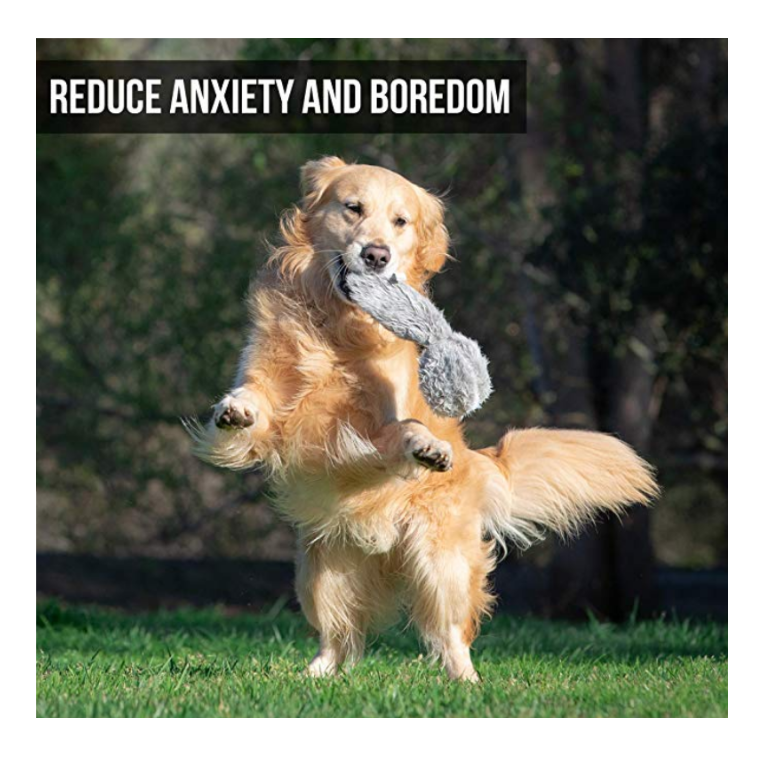 All dogs need toys to keep their brains and bodies busy With Interactive Dog Toys.
Toys aren't only crucial for keeping your puppy happy and preventing boredom. They're also useful for addressing problematic behaviors, such as destructive chewing or nuisance barking. 
The problem is, typical toys come in one of two varieties:
"Boring" toys, such as chews, which don't do anything

. Some dogs will enjoy these toys (particularly power-chewing pooches), but others will quickly lose interest. 

"Co-play" toys, such as tugs and tennis balls

. These toys tend to keep a dog's interest longer, but you'll usually have to participate in playtime to make them fun. 
But as you probably already know, your dog will often want to play when you have other things to do. Fortunately, there is a solution – interactive dog toys. 
Interactive dog toys come in various forms, but they all feature one thing in common: They make playtime fun for your dog without you having to do anything (aside from setting up the toy and teaching your dog to use it). 
We'll point out a few of our favorite interactive dog toys below to help your pooch fight off boredom on his own. But first, let's explore some of the different types of interactive toys. 
Types of Interactive Dog Toys
Interactive toys are all based on the same principle. The design is to make it easy for your dog to play by himself. 
Toy manufacturers have unleashed an array of different interactive toys, and some are incredibly creative products. That said, they tend to fit into one of several basic categories. 
There is some crossover between styles, and some probably fit into more than one category. You are familiarizing yourself with some of the basic types. You'll likely be able to narrow your focus and pick the best kind of interactive toy for your pet.  
Interactive Electronic Dog Toys: Best for Dogs Left Alone for Long Stretches
Electronic dog toys come in various forms, but they all provide your pup with some type of entertainment.
For example, some may move a laser pointer around the room, while others give your dog the chance to play a canine version of "Simon Says." 
Many electronic toys also perform other actions or have additional capabilities. You can take photos of your dog mid-play with some electronic interactive dog toys, and others feature two-way speakers so that you can communicate with your dog during playtime from afar. 
Treat-Dropping Interactive Toys: Best for Food-Motivated Pups
These toys are pretty self-explanatory: They dole out treats when your dog plays with the toy or performs the desired behavior. 
In the purest form, this includes KONG toys, snuffle mats, and similar products. With this game, you are, forcing your dog to "work" to get the tasty treat inside.
Others design to be stuff with treats, which the toy then releases in random, sporadic fashion as your dog plays. 
Some electronic toys also distribute treats, and many pet cameras (which are interactive devices, if not proper "toys") provide treat-tossing functionality.  
Interactive Ball-Launching Toys: Best for Retrievers & Other Fetch-Loving Dogs
Forgive us for stating the obvious, but ball-launching toys designed to toss a tennis ball for your pooch. 
But they vary in a ton of other ways.
Some ball-launching toys design requires no human interaction. Your dog loads the ball in some ball hopper. With either paw-some kind of trigger or simply waits for the ball to launch automatically. Cue the chaotic cuteness of your canine chasing his ball around the kitchen (or backyard). 
Cool ball-launching toys will pair with your phone.
 It performs a variety of different "games."
 With the Cool ball-launching, you can adjust the distance and angles.
You can also use several balls at the same time. It minimizes the need for you to retrieve lost or canine-inaccessible balls. It reduces the need for you to recover lost or canine-inaccessible balls.  
Petcube Bites 2
About: The Petcube Bites 2 is an interactive dog camera that allows you to communicate with and dispense treats to your pooch while monitoring them from the Petcube companion mobile app.
You can set up the Petcube camera to share your dog's stream with friends and family too!
Product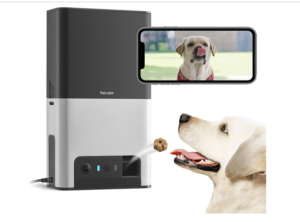 [New 2020] Petcube Bites 2 Wi-Fi Pet Camera with Treat Dispenser & Alexa…
Details
🎥 ULTIMATE PET MONITORING: With Petcube Bites Wi-Fi pet camera, watch your pet with 1080p full HD…

🚀QUICK 2-MINUTE SETUP: Petcube Bites 2 is the only pet camera to support 2. 4Ghz and 5Ghz Wi-Fi…

🍖TREAT YOUR PET REMOTELY: Toss treats small, medium, or long distance or schedule automatic treat…

🔔 SMART SOUND & MOTION ALERTS: Real-time notifications tell you when your pet is active and you…
Features:
High-quality video.

 1080p HD video, night vision, 4x digital zoom, and a 160-degree wide-angle lens lets you see the entire room. 

Treat-dispensing with varying amounts and distance.

 With Angry-Birds-Esque swiping, you can shoot your dog's treats out at different intervals. Besides, you can program the Petcube to dispense treats at specific times of the day to keep your pup occupied.

Quality mic and clear sound.

 Full duplex sound, 4-microphone array, and a speaker bar result in crisp and clear audio that's the phone-call-level quality between you and your pup. 

Alexa's included. 

The built-in Alexa assistant can play music for your pooch right from the camera.

The ability for

 

smart alerts, bark alerts, and moment capturing.

 With a Petcube Care subscription, the camera can notify you when your dog is barking, identify intruders (it can tell the difference between pets and people), and even be programmed to auto-capture your pooch's cutest moments.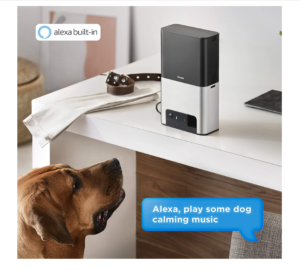 PROS
The Petcube Bites 2 is a fantastic pet camera. It's easy to set up, works on both 5GHz or 2.4GHz WIFI connections, and the ability to toss treats at varying distances is amusing.
CONS
It's a shame that some of the most useful features – such as the bark alert and human intruder alert – require the Petcube Care monthly subscription. However, this is true for other pet cameras (like the Furbo) as well.
Hyper Pet Doggie Tail
About: The Hyper Pet Doggie Tail is a moving dog toy that wiggles, vibrates, and barks(!) to keep your puppy's attention.
When it's time to play, simply turn the ball on and then toss it to your pooch — the toy will take care of the rest!

Product
Hyper Pet Doggie Tail Interactive Plush Dog Toys (Wiggles, Vibrates, and Barks.
Details
PLUSH SQUEAKY DOG TOY THAT WIGGLES, VIBRATES, & BARKS –Entice your dog to run, chase, play, and…

REDUCE ANXIETY AND BOREDOM – With funny sounds and erratic movements, this plush dog toy will…

TIPS TO ACTIVATE – On/Off button on this plush dog, is located on the top of the plastic ball.

BATTERY OPERATED PROLONGED PLAY – To change batteries, remove the plastic nut from a plush toy.
Features: The Hyper Pet Doggie Tail is a plastic, motorized ball with a faux-fur cover that makes the ball look like some sort of cute critter.
When you turn the toy on, it will wiggle and move around for about 10 seconds before stopping. Once you or your dog shake it again, it'll come back to life and walk around for more fun. 
The toy does require three AAA batteries (not included). But, because the toy automatically shuts off when your dog stops moving it, the batteries should last for a while. 
The Hyper Pet Doggie Tail is only available in one standard size, but it should work well for medium to large dogs. Replacement covers are available in case your pooch destroys the cover. 
PROS
Overall, this seems like an entertaining toy for dogs. Most seemed to love the way the Hyper Pet Doggie Tail moves and found the prey-like appearance captivating. Reports like "Best Dog Toy in the World!" were widespread. Also, the automatic on-off capabilities help to prolong battery life, which is helpful. 
CONS
The biggest downside to this toy seems to be its durability — some dogs destroyed the toy in a matter of minutes, so it isn't great for power-chewing pooches. Several owners also had trouble opening the ball to install the batteries, and it appears that you'll need a small jewelry-style screwdriver to open the compartment.
Playball by Couch Potato
About: The Playball by Couch Potato is another automatic ball launcher designed to keep your retrieving Rover busy and his tail wagging.
However, it is essential to note that this particular ball launcher is specifically intended for small dogs, as it uses balls that are small enough to be a choking hazard for big pups. 
Product
Felix & Fido Playball! Playball Automatic Ball Launcher & Thrower for Dogs -…
Details
The Playball Automatic Ball Launcher for DOGS is VERY EASY TO USE! Your furry friend will LOVE this…

Our Automatic Dog Ball Thrower is specifically for SMALL dogs. The Playball automatically.

For INDOOR and OUTDOOR use. Accessories included are a Wall plug (for indoor use) and three smooth.

Light up settings on the Ball Launcher shows the distance setting for three different launchings.
Features: The Playball by Couch Potato is a small, hopper-style-loading ball launcher with an attractive red housing.
It works just like most other ball launchers do: You switch the unit on, give your dog a ball, and drops it in the round hopper located on the top. A few seconds later, the toy fires a ball out, and your pooch gets to chase after it. 
The Playball utilizes unique balls that are slightly smaller than standard tennis balls (they measure about 1.5-inches in diameter). Still, they're also using a unique material that prevents the launcher from becoming jammed when the balls are wet and slobbery.  
You can set the Playball to launch balls for three different distances, based on the available space. It comes with a power cord and features a series of LEDs that light up to indicate the current range setting. 
PROS
Many owners were happy with the Playball and explained that their pooch loved playing with the toy. It appears very simple to set up and use, and the multiple distance settings make it easy to adjust to suit the amount of space you have available. 
CONS
The Playball is only suitable for small dogs, and it is only capable of launching the ball about 20 feet, but that's not a massive issue for smaller pooches. Nevertheless, the biggest complaints most owners reported were that the launcher jammed quickly, and the balls didn't stand up to their pup's chewing. 
PetSafe Automatic Ball Launcher 
About: The PetSafe Automatic Ball Launcher is a full-sized ball launcher designed to work with standard tennis balls, but you can also use smaller balls if you have a minor puppy.
Unlike many other ball launchers on the market, the PetSafe Ball Launcher features more adjustable features and a smart safety sensor that prevents your or your pup from getting pegged at close range. 
Product
PetSafe Automatic Ball Launcher Dog Toy, Tennis Ball Throwing Machine for Dogs.
Details
SAFETY: Multiple sensors keep you and your dog safe; a FRONT MOTION SENSOR protects pets and people…

DISTANCE: Launcher throws between 8-30 feet; has nine distance settings and six angle settings; pull out…

PAUSE: The Automatic Ball Launcher features a 15-minute rest interval after 15 minutes of play; the…

OPTIONS: The PetSafe Automatic Ball Launcher is suitable for both indoors and outside to entertain your dog.
Features: The PetSafe Ball Launcher utilizes a hopper-style loading mechanism to make it easy for your pooch to use. He simply drops the ball in the loading mechanism on top and waits to launch a ball out.
The launcher will accept up to three balls at a time, which may be helpful for dogs who take their retrieving seriously. An audible tone sounds right before a ball is a launch. 
This ball launcher gives you the chance to set it at any of nine different distance settings, and you can also adjust the angle at which it fires out the ball.
It comes with a couple of cool safety features. 
It includes a motion-sensing sensor. To prevents it from launching a ball when your dog is within 7 feet of the front. 
It triggers an automatic 15 minute rest period after every 15 minutes of continuous play to prevent fetch-obsessed dogs from wearing themselves out too much.  
The PetSafe Ball Launcher is water-resistant. It is suitable indoors or outdoors. It will work with the included power cord, or you can add six "D" cell batteries when you don't have an outlet handy. 
PROS
Many owners were pleased with the PetSafe Automatic Ball Launcher and reported that it worked well with their pooch. The adjustable distance and angle controls earned a lot of positive comments, and the audible tone that proceeds ball launching seemed helpful to many dogs. 
CONS
Unfortunately, there were quite a few complaints about the product's durability. Additionally, the unit seems very loud — loud enough to frighten some dogs away. Finally, the 15-minute cycle is way too short for some slow-moving dogs, almost defeating the purpose of the toy (to keep your dog occupied for significant periods). 
Kong Wobbler
About: The KONG Wobbler is a durable, more-or-less pear-shaped dog toy with a hollow interior and an access hole at each end.
To use the toy, you simply stuff it full of treats, kibble, or a pet-safe spread and let your dog try to figure out how to get the delicious reward inside.  
Product
KONG 41938 Classic Dog Toy, Large, Red, KONG Classic Large
Details
INSTINCTUAL NEEDS: The KONG Classic red rubber toy helps satisfy dogs' instinctual needs and…

FETCH TOY: The KONG Classic's unpredictable bounce makes for exciting games of fetch and other…

AVERAGE CHEWING DOGS: The KONG Classic red rubber formula is for average chewing dogs.

GREAT FOR STUFFING: The stuffable KONG Classic is even more enticing when stuffed with kibble,…
Features: The KONG Wobbler — like most other KONG toys — is designed not only to be fun but also safe and durable.
It is from a food-grade, high-strength polymer, which is dishwasher safe, making cleanup a snap. It's also made in the USA, which will give most pet owners peace of mind.  
Loading the Wobbler is easy, too, as the top simply screws off to give you access to the interior. The bottom half of the toy is weighted, which helps to make it fun for your pup to play with and helps prevent it from rolling away, like some similar toys commonly do.  
The Wobbler is available in two sizes: Small and Large. The small version will hold ½ cup of Food, while the large version will conduct a full cup. It means you may even be able to use the Wobbler as a slow-feeder as well as an interactive toy. 
PROS
Most dogs loved playing with the KONG Wobbler, and the difficulty level seems pretty well-suited to most pooches. Most owners found it easy to load and wash, and the toy seemed to remain attractive to most dogs for long periods.
CONS
Despite KONG's dedication to producing durable toys, some dogs were capable of tearing the Wobbler apart. So, it probably isn't an excellent option for a power-chewing puppy. A few dogs did manage to get their teeth or mouth stuck in the treat port, so supervision is wise during the first few play sessions.