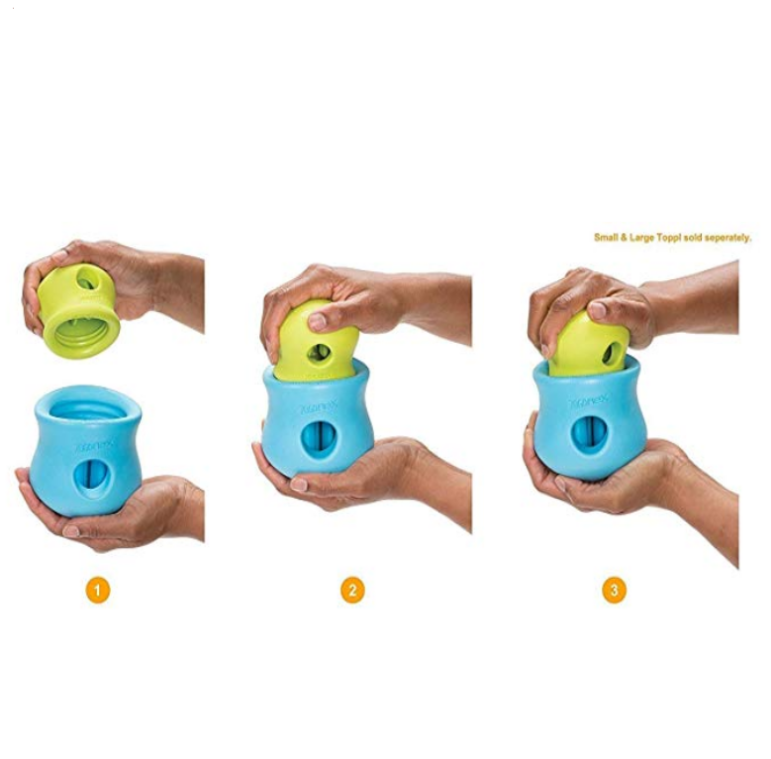 Most interactive dog toys fit into one or more categories. But given the creative nature of these items, some will always defy categorization.
If you spot an interactive toy, you like that doesn't fit into one category, just be sure to consider your dog's aptitudes, anxieties, and interests to ensure it'll be a good fit.
Note that you can also make your DIY interactive toys (we'll share some plans later in the article).
So, if you decide to get creative, you could conceivably invent entirely new interactive-toy categories!
Best
Interactive Electronic Dog Toys
Check out some of the best electronic dog toys we've found below! We've included electronic gadgets of varying price levels, ranging from crazy cheap to relatively pricey.
Ricochet Dog Toy
About: The Ricochet Dog Toy is an electronic interactive dog toy from PetSafe designed to keep your pooch running and playing without any prompting from you!.

Product
PetSafe Ricochet Electronic Dog Toys, Interactive Sound Game for Pets
Details
AWARD-WINNING INNOVATION – Winner of the 2019 Pet Business Industry Recognition Award (IRA)

HIDE & SQUEAK NOISE – The PetSafe Ricochet Electronic Dog Toy includes two coupled toys that let.

INDEPENDENT BUSY PLAY – Perfect for households. When your dog plays with one of the toys, the other.

LONG TIME PLAY – Both toys automatically turn off after 60 minutes inactivity (to save battery);…
The balls are charged and then synced together via Bluetooth.
When your dog begins to play and roll around one ball, the other ball will start to squeak to get your dog's attention! As your dog draws his focus to the squeaking ball and begins to knock it around, the opposite ball will go off.
The two balls will continue to work together to draw your dog back and forth between the balls. Keeping your dog's interest and encouraging movement!
The two balls are position as much as 30 ft apart while still staying synced. Despite using AAA batteries, the Ricochet electronic moving dog toy can last for up to a month of daily use without changing batteries since the toy is automatically programmed to turn off after 60 minutes of no activity.
PROS
The dual ball design encourages your dog to move physically as well as stay mentally stimulated. Since the Ricochet electronic balls are made of hard, durable plastic and contain no stuffing or fabric, this is an excellent toy for rough chewers who normally decimate other toys.
CONS
Many owners note that their dogs just aren't into this toy. Some simply aren't amused, while other more skittish dogs are afraid of the sounds. The toy is also quite pricey, so it can be frustrating to buy the Ricochet and have your dog be uninterested in it. Some owners also find the sounds to be obnoxious.
Babble Ball
About: Aside from sticks found in the backyard, balls are probably the oldest dog toys in existence. But the Babble Ball brings this old-school toy into the 21st century by adding flashing lights and sounds to the fun!
Easy to use, yet captivating for canines, the Babble Ball is an excellent tool for providing your pooch with additional mental stimulation.
Product
Pet Qwerks Blinky Babble Ball Interactive Dog Toys – Flashing Motion Activated.
Details
FLASHES AND TALKS: motion activated flashing lights and made 18 different sounds

GOOD WITH SPECIAL NEEDS PETS: excellent for pets that are blind have poor eyesight or separation…

LONG-LASTING BATTERIES: 12,000 – 15,000 phrases or sounds (batteries included)

EXERCISE TOY: helps your pet remain active
Features: The Babble Ball is a reasonably typical ball that features internal electronic components that produce the lights and sounds associated with the toy.
You don't need to train your dog to use it, either — simply turn it on and let your puppy go to town! The toy produces 18 different sounds in total, so it will keep most dogs interested for a long time.
This toy does require 3 1.5 volts (AG13/LR44) button cell batteries, but it comes with your purchase. According to the manufacturer, these batteries should last for approximately 12,000 to 15,000 phrases or sounds, and replacing the batteries is a relatively straightforward exercise.
The manufacturer reports that the Babble Ball design to be durable.
But it isn't intended for outdoor use. You may break it by chucking it around the backyard. Nor would you want to play canine catch with it.
Additionally, it not designed for dogs that like to gnaw on it.
PROS
One of the best things about the Babble Ball is its price. Unlike some of the other interactive toys on the market, which cost a fortune, it won't cost you ten bucks to try out the Babble Ball! Most dogs seemed intrigued by the toy, and several owners reported that it stood up to their power-chewing pooch for quite a while.
CONS
A few owners reported durability concerns, but the most common complaints involved dogs that were afraid of the sounds. It's also worth pointing out that you can't turn this ball off — it becomes "active" and starts emitting sounds when it senses vibration.
VARRAM Pet Fitness Robot
About: If you're ready for a space-age dog toy, you should certainly check out the VARRAM Pet Fitness Robot.
The moving, treat-slinging, polycarbonate-encased design is to interact with your pooch and stimulate his mind when you don't have time to play.
Product
VARRAM Pet Fitness Robot: Interactive Treat Dispenser and Companion Robot for…
Details
STAY INTERACTIVE WITH TREAT REWARDING AND FUN ACTIVITIES: Take care of your pet like a pro even when…

IMPROVE PHYSICAL AND MENTAL HEALTH: Physical activities for your pet is essential to keep their mind…

Durable Design: Our pet fitness robot is durable and built to last. It poly-carbonate.

CONVENIENT AUTO SCHEDULING & EASY TO MANAGE APP: You can simply access our app to schedule and…
Features: Measuring about 6.5 inches wide and 4 inches high, the VARRAM Fitness Robot features two large wheels, a cute set of robot eyes, and a treat-ejection port.
You can use any treats that will fit through the port, and the treat receptacle is easy to wash and load.
The VARRAM Fitness Robot comes with several pre-loaded movement patterns and programs. You can also create your own (and control the device in many other ways), via the associated smartphone app.
A feather lure comes with the toy, although this is likely to be more fun for cats than dogs.
The VARRAM Fitness Robot enjoys an IPX4 water-resistance rating, meaning that your dog's slobber won't harm it.
The tires are capable of tackling hardwoods, carpet, or tile floors, and it features obstacle-avoidance software to prevent it from running into things or becoming stuck.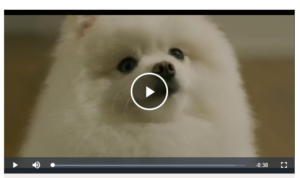 PROS
Generally speaking, the VARRAM Robot enjoyed good user reviews, and it seemed to catch the attention of most canines. Comments like "What I've been looking for FOREVER," and "The first legitimately good autonomous dog toy" litter the review section. Several owners also pointedly praised the app and the ability to schedule play sessions for their pooch.
CONS
A few owners complained that the toy was challenging to update. But the majority of negative reviews centered around the toy's durability — it does not appear robust enough to withstand destructive dogging. A few owners also complained that the movement was a bit slow and unexciting for their dog.