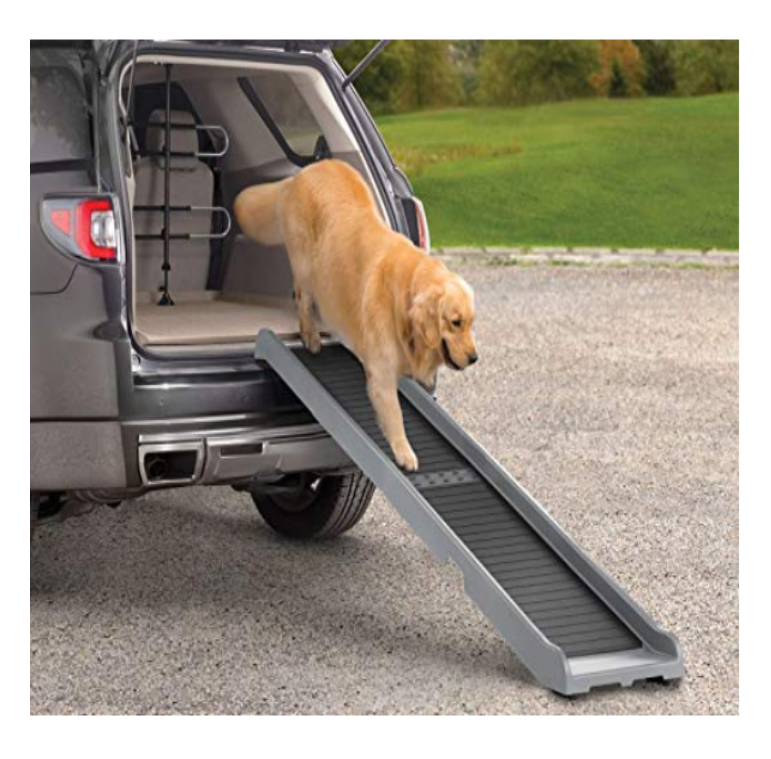 Pet stairs and ramps are just the things when your dog is having a tough time getting around.
While pet stairs are often a great help to older dogs, they're also a smart option.
It is ensuring that even young pets age gracefully.
Canine stairs help avoid putting any unnecessary strain on joints that might deteriorate later with arthritis.
Even your puppy could benefit from pet steps or a ramp since his still-developing body is particularly susceptible to injury.
Today we're detailing the best pet stairs and ramps for dogs. Help your canine friend get around easier and maintaining healthy joints. But first, we will look at what factors you might want to consider. When buying a pet ramp or stairs, and which is better for your situation.
Pet Ramp vs. Pet Stairs
Whether you decide to opt for a pet ramp or pet stairs depends mainly on your pet's needs.
Many owners prefer pet stairs because they take up less space; this means they can fit even in small spaces and will not be cumbersome if left out in your bedroom or living room. Stairs are, additionally, usually more comfortable to move around.
On the other hand, ramps are often sturdier than stairs. They're also easier on the joints of arthritic dogs and are the best option for small breeds who may struggle even with small steps.
Consider also what your pup can adapt. Dogs who have only ever lived in an ingle story home may not take to stairs easily. Getting up and down a set of stairs is not as intuitive as it may seem. It makes many dogs nervous (so I learned after painstakingly bribing my sister's shaking hound pup with treats to come down the front steps). Still, even using a ramp may take patient training.
Factors to Consider When Buying a Pet stairs and ramps
Whether you are buying a pet ramp or pet stairs, you will want to pay attention to the following:
Material.

Stairs come in many different materials, from something sturdy, like wood or metal, to foam. Foam stairs may be more comfortable for arthritic dogs, but make sure that they can sustain their weight. Ramps come in various materials. If made from something slippery like metal, make sure the surfaced is something that will prevent your dog from falling.
Grip.

Steps or ramps that slide around on the floor are a safety hazard. Especially if you will be using the product on a sleek floor, check that you buy something that has non-skid feet or non-skid material on the bottom.

Storage.

Where do you need to use your ramp or stairs? Can you quickly move it out of the way? You don't want to get something clunky that you will feel like throwing out the window after a week.

Width.

As a general rule of thumb, toy pups need about 12 inches of width, while large dogs need about 24. If your puppy is nervous about heights, you may want to get a ramp or stairs that are even wider. It will make him feel more secure as he makes his way up to the couch, bed, or car.
Top Pet stairs and Ramps
Pet Loader Collapsible Platform Steps
Description: These collapsible steps are pricey, but are ideal for owners on the go with limited storage space.

Product
Pet Loader Light 16" Platform, 3-Step
Details
No injury to dog or yourself

Easily folded, carried, stored

Low angle of ascent/descent and wide decks eliminates fear

Weighs 18 lbs., 16" to 20" high, great for car backseats, beds, couches
There are three models to choose between: the 3-step, 4-step, and 5-step. The 3 step model can be adjusted to stand between 16 and 20 inches tall and weighs 18 pounds; the 4-step version weighs 24 pounds with a height ranging from 20 to 30 inches; the 5-step is 29 to 40 inches tall and weighs 30 pounds.
All models are heavy-duty plastic, can sustain a 150-pound dog, and have carpeted platform steps 16 inches wide.
While each platform is 22 inches long, the steps are not 22 inches deep. Remember, the height and depth of each step will change depending on the height of them. (see the product website for a guide). Folded the levels are 23 inches wide, 22 inches long, and 5.5 (3-step), 7.5 (4-step), or 9.5 (5-step) inches tall.
Pros
These steps seem especially great for older large dogs who may struggle to get in and out of the car due to arthritis. Owners love that these steps are easy to use. Most owners also reported that this company has a very responsive and helpful customer service team. Pups love these steps because they do not shake and have a shallow incline that makes them easy to get up and down.
Cons
Some owners found that these steps were a little heavy. However, most owners felt that they were easy to manage. Other than that, the cost may be a limiting factor for some.
Description: The reasonably priced PetStep Folding Pet Ramp stands out for its unique ridged rubber walking surface suitable for use not just on land, but also in water.

Product
Original PetSTEP folding pet ramp
Details
Unique soft non-slip rubberized walking surface. Superior Traction in wet or dry conditions.

The universal non-slip grip fits all vehicles and edges

Folds in half for secure storage and portability (molded ergonomic handles on both sides)

Advanced composite plastic construction holds up to 500 lbs (animal use only)
It is 70 inches long, 18 inches wide, and can hold up to 500 pounds. Since it is lightweight compared to many ramps (just 18.6 pounds), easily folds in half, and has cut out handles on the sides, the ramp is very convenient to travel.
It's made of plastic and fiberglass, meaning it holds up in all types of weather and is very sturdy. The end of the ramp also provides excellent Traction so that it does not slide around while your pet is on it, and the raised edges ensure that your pet will feel secure. Finally, the ramp comes with a 5-year warranty as a bonus.
Pros
Many owners chose this ramp to use on their boat and were satisfied with their choice, commenting that the dog could easily use it even when wet. Other owners were attracted to this ramp because it did not use a sandpaper-like surface to prevent slipping.
Most owners found that this ramp's rubber surface was useful and much easier on their pups' paws. Some owners also found the folding design to be easier to use than slopes that telescope.
Cons
Some owners found this ramp to be a little bulky and complained that your fingers could get stuck between the two halves if not appropriately handled. A few owners mentioned that this product would ideally be a little wider to accommodate large dogs better.