Hurtta Hunting and Swimmer Dog Vest
$80.50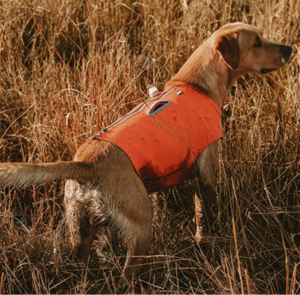 TWO DOGS ARE THE SAME – Don't guess on the size. Use the size chart along with the "Measuring Your Dog" size guide. The chest measurement is the most important for the Rambler Vest.

USES – The Rambler Vest is a durable, silent and warming high-visibility vest for outdoor activities, swimming, and hunting

WATER RETRIEVAL – Thanks to its excellent thermal insulation, the neoprene vest is particularly suitable for outdoor activities in cold temperatures as well as for gundogs that retrieve game from water

MATERIAL – It made of elastic and non-absorbent neoprene, which is durable and silent in use. The vest's belly flap protects the dog's sensitive belly area It can trim to fit

FEATURES – The Rambler Vest has a low profile pass-thru top handle designed not to get caught on branches. Great for helping to lift your dog out of the water
Description
This company is known for innovative dog gear, and they're proud to introduce this creative Hunting and Swimmer Dog Vest. It's high-visibility and treated with bug repellant to keep pests away. The vest is buoyant for extended water activity.
Suitable for
Suitable for all dogs
This hunting and swimmer's dog vest is a great way to make sure your ready for all types of outdoor activities. The high-visibility and durable material have treated with bug repellant protection from pests. It also buoyant( but not substitute life-jacket) help your dog stay in water longer.
[sp_testimonials_slider]