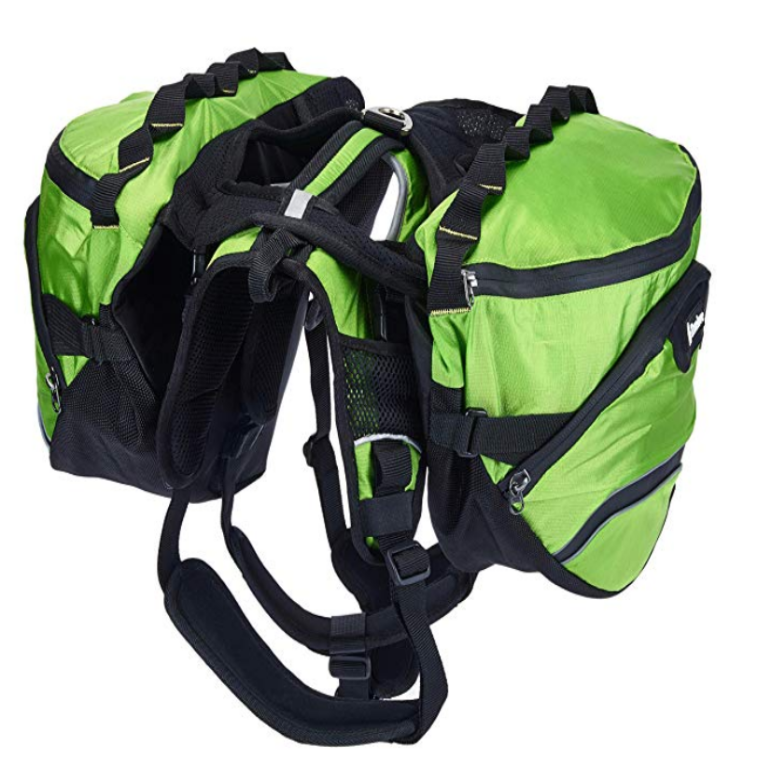 Smart canine parents keep a variety of items stored in dedicated Saddle Bags for Dogs.  This eliminates time spent searching for scattered items and hold the number of items lost to a minimum. But strangely, these doggie moms and dads often decide to lug this stuff around themselves.
While ferrying your dog's treats and water bottle isn't like dragging around a bag full of bowling balls, it is a pain in the butt. The question is: Why are you being such a sucker? Why are you hauling all this stuff that your dog would actually enjoy carrying?
Most dogs enjoy working for and pleasing their humans (some more so than others), and many require copious amounts of exercise. Saddling them with a sack stuffed with their own stuff is a great way to scratch both of these itches.
Saddling Up Your Supplies: What You Might Need For Your Journey
Fido may be ready to rock at the drop of a hat, but you can't just run out the door. You have to take the time to collect (and ultimately carry) a variety of things that will help ensure the trip is fun for both and safe for all.
Minimally, this means gathering up a water bottle and dish, a leash and a few plastic baggies; buy you may also need things like:
Treats

A favorite toy

Clickers

Muzzles

Training collars

Towels
And if your adventure will take you far from home or last a long time, you will need things like:
Food

Medications

Footwear
With a hefty helping of supplies like these, having your dog pull his fair share will likely sound appealing. Your pup's only request will be to securely stow said gear in a well-made, well-fitted dog saddlebag.
Important Features & Considerations In Picking A saddlebag for dog
While any dog backpack is probably better than no pack, there is a big difference between a bottom-of-the-barrel product and the cream-of-the-crop.
However – and this is key – the difference in price between the two is rarely significant enough to make the economy models cost-effective. It's usually wise to plunk down the extra ten or twenty bucks for a premium pack.
A high-quality saddlebag for a dog is made with materials resilient enough to withstand some wear and tear. Still, they also feature padded straps and contact points engineered to be as comfortable as possible. 
High-end dog backpacks also feature broken clasps, buckles, zippers, and snaps, rather than cheaply made connectors and hardware.
That said, budgets are a fact of life. If you cannot afford one of the higher-priced models, try to select a canine economy backpack built to last. Generally speaking, this means opting for dog saddlebags without any bells and whistles; instead, you want the manufacturer to spend money on quality materials and craftsmanship.
While it's unlikely, Spot knows, understands, or cares if his pack is ready for the red carpet, there's nothing wrong with selecting dog saddlebags that fashionable wear remains functional and fits well.
Note that canine backpacks often calm nervous dogs, in the same way, swaddling blankets soothe newborn babies.
Accordingly, it can be helpful to consider the basic design of the saddle pack and select one that provides plenty of snug body contact.
Dog whisperer Cesar Milan discusses the benefits of dog backpacks, and how to choose a well-fitting dog saddlebag.
Don't Weigh Down Your Dog: Choose An Appropriate Load
Obviously, you don't want to overburden your beloved bestie, even if he is a beast.
Use discretion when adding stuff to the dog saddlebag. Too much weight on dog saddlebags can lead to overexertion and health problems.
Weight recommendations vary quite a bit from one authority to the next. Conservative guidelines hover in the 10% – 20% of bodyweight range, while more relaxed guidelines suggest that healthy dogs can carry a quarter of their body weight or more in a well-fitting dog backpack.
Also, always make sure that when loading your dog up with supplies, that the pack has weight evenly distributed on both sides. Uneven weight distribution can cause pain and harm to your pup.
Check out this handy image guide from Outward Hound, showing how to measure various parts of your dog's body to ensure his pack fits: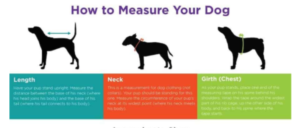 Things like your pup's breed, health, and age all factor into deciding an optimal weight, like the terrain and grade of the place you're visiting.
As always, discuss the issue with your vet and err on the side of caution to ensure your pup's continued good health.
1.
Mountainsmith K-9 Dog Pack
About:
The Mountainsmith K-9 Dog Pack is a great looking, quality canine saddlebag.
While it's on the pricier side, it's definitely durable and high-quality enough to justify the price tag.
This pack is completely customizable, with several points of adjustment to fit your dog's body perfectly. 
The pockets are deep and offer reflective trim for visibility. Plus, the padded tubular handle is ideal for helping your dog up rocky areas that might need a hand navigating.
Features:
Available in three different sizes-small, medium, and large

Padded tubular grab handle

Adjustable back harness and adjustable belly strap

Four-point adjustable chest harness with padded sternum strap

Two-pocket compartments with extra zippered accessory panels.

Reflective trim for improved visibility
Pros
Owners were very impressed with this Mountainsmith K-9 pack's durability, noting that the quality padding prevented sores or chaffing. Hikers comment that the level of adjustment makes this pack the best, with many noting that this was one of the few dog backpacks that stay secure and do not slide around.
Cons
One owner noted that their Goldendoodle's curly hair got a bit matted after a long day of hiking, but this wasn't often cited as an issue and is likely a problem with any dog saddlebag.
Mountainsmith actually sent us this pack to test out ourselves, which allows us to testify to the quality of this pack.
Issi is new to mountain hiking, but even he thought this pack was comfy. I loved the colors and quality- it's clear that the kit is made from materials designed to withstand years of hard hiking. The pockets are impressively broad and deep, allowing your pup to carry a variety of gear.
The handle is also comfortable for humans and easy to grasp, which I imagine will come in handy getting Remy up boulders and rocky surfaces – especially when he slipping or stumbling could be dangerous.
2. Cesar Millan Dog Backpack
About:
The Cesar Millan Dog Backpack is a reliable, well-made canine saddle bag from the beloved Dog Whisperer!
Product
Cesar Millan Dog Backpack (Medium)
Details
AS SEEN ON TV SHOW CESAR 911: Cesar Millan, a renowned dog behavior authority, stands behind the use…
FOR DOG OWNERS WITH LIMITED TIME: If you have limited time to take your dogs out for walks and…
CONVENIENT SIZE FOR MEDIUM DOGS: This dog anxiety relief backpack is perfect for medium dogs between…
GREAT FOR HIKING: This dog saddlebag for hiking makes the perfect addition to your hiking gear. This…
Features:
Keeps weight towards your dog's front shoulder, where he is the strongest
Water-resistant, tough, and durable material
Inner mesh cushioning keeps your dog cool while exercising, as well as comfortable
Pros
Owners note that this dog backpack is very high-quality and long-lasting. It's solid stuff!
Cons
This pack is a bit pricer than others. A few owners had some trouble with the sizing, as dogs with larger or smaller chests had a difficult time being properly fitted.
3. Lifeunion Dog Saddle Bag
About:
The Lifeunion Dog Saddle Bag is a simple and effective pack that features two large side pockets and a handy carrying handle.
Features:
Adjustable width straps allow for a secure, comfortable fit

Straps feature reflective strips

A selection of colors to choose from

Made from durable, 100 percent waterproof nylon
Pros
Most owners love the color scheme and praise the exceptional durability of the bag. This model appears to be very comfortable for most dogs, and many 
I seem to enjoy wearing it.
Cons
Some owners with smaller dogs (30 to 35 pounds) found that they had to tighten the straps as much as is possible to attain a good fit, so be sure to rely on your dog's chest size, rather than weight, when selecting a size.
4. OneTigris Cotton Canvas Dog Pack
About: 
The OneTigris Cotton Canvas Dog Pack is a rugged saddlebag that features multiple pockets for carrying all of your pup's gear.
Features:
The high-density cotton construction provides a comfortable fit for your pet

Twin zippered pockets and easy-access pouches make retrieving items a breeze

Vintage styling gives the pack a "classic" look
Pros
Most owners have found the pack to fit their dog well, and few noted any comfort issues. Additionally, the durability of the OneTigris Dog Pack has drawn positive praise from most owners.
Cons
Owners with thin dogs have occasionally needed to use safety pins to keep the pack tight. Some have found the pockets to be too narrow, if relatively spacious.
5. Outward Hound DayPak
About: 
The Outward Hound DayPak is an affordable, yet high-quality saddlebag, available in two different colors and three different sizes.
Features:
The fun color scheme with reflective accents for safety

The breathable mesh harness helps ensure a comfortable fit

Metal D-ring leash attachment

Four expandable pockets provide plenty of room for your dog's stuff
Pros
The relatively compact design of the bag works helps keep dogs fresh and prevents the bag from impacting their movement.
Cons
Some owners experienced size- and fit-related problems, so be sure that you measure your dog's body carefully to select the proper size.
***
Let us know about your experiences with saddlebags in the comments below. Did your dog enjoy this new pack, or was it a chore to get the dog to wear it? What types of features would you recommend that buyers look for in a saddlebag? What would you look for when selecting a new pack in the future?