How to buy the best dog car seat covers. The bane of our existence as dog owners is dog hair, dog hair everywhere. When you own a dog that sheds, you are guaranteed to find dog hair all over your house, clothes, and car. Luckily, at least one of these things can be solved by using a dog car seat cover.
Buying The Best Dog Car Seat Covers
But buying the right one isn't always easy. That's why we've done the grunt work for you and found the top 5 dog car seat covers that customers agree are the best of the bunch. These are the best quality dog car seat covers on the market and is guaranteed to make travelling with your dog friends easy for you and them.
Protect Your Dog Car Seat Covers
If you're someone who allows their dog in the car often, you might want to consider the 
    Amofy Car Seat Cover for the dog. It can fit in the back seat of many vehicles and is compatible with armrests and seatbelts. The position is non-slip and waterproof, and it's easy to wash. Simply throw it in the machine washer.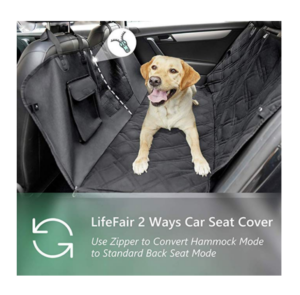 Who Should Buy a Dog Car Seat Cover
Dog car seat covers are most useful for dog owners who transport their dogs very often. Especially if their dog is a heavy shedder. But every dog owner who also owns or uses a vehicle to transport their dog should buy a car seat cover.
The seat cover can help to manage fur shedding in the car. And help to make your dog more comfortable during the drive.
Even dogs that are non-shedding breeds can still leave dirt and debris on car seats and can benefit from a car seat cover. They provide extra insurance for your vehicle's life against scratches or tears from dog claws, too.
Not to mention the possibility of bathroom accidents with any dog. If you have a car seat cover, you can simply toss it in the washing machine, and you're good to go.
Otherwise, you'll never get the smell out of your car's upholstery. If your pup travels with you in your vehicle regularly, keep a dog travel water bottle on hand to keep him hydrated on your outings.
Important Features to Consider
Vehicle make. 

You will want to choose the style of dog car seat cover depending on the style of vehicle you own. Some dog car seat covers are ideal for bench seats. Some for bucket seats and some are made specifically for trucks. So keep that in mind when picking out your dog's car seat cover.

Dog breed.

 If you have a large breed of dog, you will want to consider the broad style of dog car seat cover. Such as a cargo seat cover rather than a bucket seat cover.

Use.

If you only use your dog car seat covers on occasional trips to the vet or to the dog park. You will want to select a style that can be easily removed and reinstalled in your car. 

On the other hand, if you are continually taking your dog in the car with you, you will want an extra secure one. So you don't have to readjust it every time you two get in the car.

Style.

All of these other factors will impact the form of dog car seat cover you choose. Your dog's demeanour in the car (e.g., if they are very anxious). And if you are travelling with more than one dog at a time.
Frequently Asked Questions
How do dog car seat covers work?
At baseline, dog car seat covers act as a blanket or tarp to cover your car seats. Protect them from dog hair, dirt, and other debris from your dog. Different styles will attach to the car seat differently. But they will all keep your car cleaner than not having one will.
How do you measure for optimal fitting dog seat covers?
Typically, car seats have two measurements, the hip space, and the shoulder space. The hip space is where you sit and can be measured from door to door. The shoulder space is the upper seat and can be measured from one end of the bench seat to another.
You also need to measure the positions in terms of width. The top of the upper place to where it meets the bottom. The edge of the bottom seat to where it meets the high position.
If you don't have a tape measure or are looking for a quick way to access the measurements online. There are websites where you can punch in the make, model. And the year of your vehicle. It will generate the measures for you from a database. It is always best to double-check your own car seats to be absolutely sure. You have the right measurements before you purchase a car seat cover.
What type of dog car seat cover should I get?
Hammock covers are used on bench style backseats in smaller vehicles or in larger vehicles with an additional bench seat in the third row. They are a more protective style of dog car seat cover and stop your dog from jumping into the front seat while driving.
Bench seat covers act as a second skin to your bench style backseat and is designed to stay in place even if your dog moves around a lot while travelling.
Bucket seat covers are best if you often travel with your dog in the front passenger seat or have a larger vehicle with bucket seats in the back.
Cargo seat covers protect your vehicle's cargo area and make it a comfortable place for your dog to travel. These are recommended for extra-large dog breeds that do not fit comfortably in regular backseats.
How do you get a dog car seat cover to stay in place?
Dog car seat covers are designed to stay in place. Make sure you follow the installation instructions correctly to ensure your dog's maximum safety while you are travelling. If your dog is extra active during car rides, you might want to consider a different style of dog car seat cover that will remain more securely in place while they move around.