Pets are more than a furry friend. They're a part of your family, and who wants to leave their cuddliest member at home? A Dog Carrier Purses let you travel across the globe or take your dog on a lunch date.
If you're worried about getting a few stares, today's dog carrier purses disguise your little bestie with style. These carriers take fashion to a new extreme that includes plenty of storage and organization.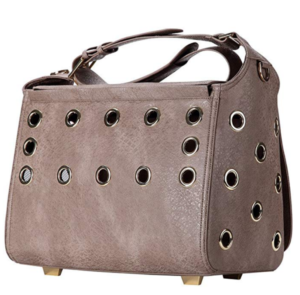 It also comes with fixed leashes, ventilation panels, and zipper protection so you don't accidentally catch fur when you're a hurry.
We reviewed dozens of dog carrier purses to identify the best of the best. From airline-approved models to those with the best breathability. The carrier purses that are easy to clean.
Of course, we couldn't research carrier purses without an eye for fashion. You need plenty of room for your pooch, but you can look fabulous while you do it.
The Best Dog Carrier Purses
The Cloverpet C0301 Bubble Pet Travel beat out the competition with its sleek design and choice of sizes. Mesh paneling provides plenty of ventilation for your dog. But you've got the option of disguising everything with flaps. And the little details that take it from carrier to fashion accessory. It's hard to beat a carrier with both a shoulder strap and carrying handles. There are just so many ways to carry and use this bag, making it a clear winner.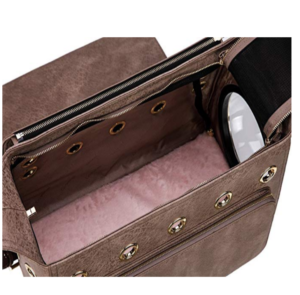 The Cloverpet C0301 Bubble Pet Travel holds your pup and looks amazing to boot. The rigid structure gives your dog some wiggle room, including a removable bottom for easy cleaning.
However, it doesn't feel like you have a hard-shell dog carrier on your hip.
They feature fade-resistant faux leather in a stylish check pattern. The bag has carrying handles and a removable shoulder strap for when you need to travel hands-free.
If you're worried about your dog jumping (or sneaking) out when you're not looking, it includes an interior safety leash. Finally, the feature exterior storage with a front snap pocket. And a hidden zipper pocket in the back for a cellphone, keys, and ID.
The Cloverpet is truly designed with your pet's comfort in mind.  It has all-around mesh ventilation panels.