Dogs may not be quite as accident-prone as kids are but always carry Dog First-Aid Kits. Dogs seem to have a particular gift for injuring themselves in odd and unexpected ways.
So, it behooves pet parents to be prepared to treat minor injuries or illnesses. And this is particularly true if you're travelling, camping, or doing something else that makes it difficult to get to the vet quickly.
There are many first-aid kits on the market that are specifically for pets, so it's easy to prepare yourself for such contingencies. We'll talk about three of our favourites below, and we'll also explain what you should do if you want to make a DIY pet first aid kit instead.
But first, let's address a pretty common question.
Can't You Just Use a Human First-Aid Kit for Your Pet?
In the event of an injury, it would undoubtedly be better to have a regular old people-oriented first aid kit than nothing.
But there are a few critical differences between first-aid kits designed for two footers and those intended for four-footers. 
For example, many authorities (such as the American Veterinary Medical Association) recommend keeping hydrogen peroxide in your pet's first aid kit. You can use it to induce vomiting.
Similarly, pet first-aid kits often come with very few Band-Aids or even leave them out entirely. Band-Aids are of relatively limited use for fur-covered four-footers, so there are better resources to include in these kits, such as copious amounts of gauze.
But even if you just wanted to use a human-oriented kit to take care of your pet's needs, it would be wise to pick up a second entire kit (as opposed to the one you use for your family), which you can keep with your dog's belongings.
So, if you're going to be buying a new kit anyway, you may pick up one for your pooch.
In the grand scheme of pet-related expenses, first-aid kits aren't that expensive, and there are several budget-friendly options.
Best Dog First-Aid Kits You Can Buy
There are a million pet first aid kits on the market, and most come with the same necessary supplies. However, we found three that caught our eye and appeared to be among the best possible options.
We'll discuss each in greater detail below.
1.RC Pet Products Pocket Dog First-Aid Kits
The RC Pet Products Pocket Kit is an excellent choice if money and space are tight.
RC Pet Products Pocket Pet First  Aid Kit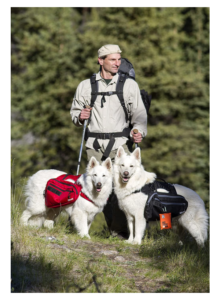 Details
Include one walks' n' Wags pet first aid pamphlet, one latex-free exam gloves, one first aid tape, three gauzes.

Includes one gauze PBT bandage roll, four antiseptic wipes, two patch adhesive bandages, and one elastic…

Pocket size design is lightweight and perfect for everyday use

Carabiner for secure attachment to leash or backpack
The RC Pet Products First-Aid Kit certainly isn't the most supply-packed option on the market, but it comes with all of the basics. It also features a first-aid pamphlet, which may be extremely helpful during an emergency, when your nerves are frazzled, and you're having trouble thinking clearly. 
All of the supplies fit neatly into a zippered travel case, which is coloured blaze orange to make it easy to spot in emergencies. This compact kit is perfect for canine road trips and another small-time adventuring.
The case also features an attached carabiner so that you can clip it to your dog or yourself, and it comes with a poop-bag portal, which makes it easy to access bags when nature calls. 
Included Items:
One Walks' n' Wags pet first aid pamphlet

One pair latex-free exam gloves

One first-aid tape

Three gauze pads

One gauze bandage roll

Four antiseptic wipes

Two patch adhesive bandages

One elastic bandage
PROS
Simply put, this is the best option for owners who need a bare-essentials first-aid kit for a reasonable price. We like that the travel case comes with a clip and that it is easy to see, and the included first-aid pamphlet may prove very helpful if your pooch gets injured. 
CONS
We'd like this kit more if it came with more supplies, but that would force the manufacturer to charge more and use a more significant travel case.
2. FabFur Gear Dog First-Aid Kits (Best for Outdoor Adventures)
The FabFur First Aid Kit will work just fine for canine-in-the-city adventures, but it's designed specifically with outdoor activity in mind. It's probably your best option if you frequently camp or hike with your canine.
Product  FAB FUR GEAR Dog First Aid Kit & Safety Supplies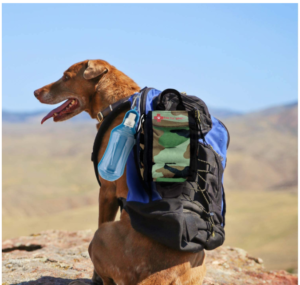 Details
PET EMERGENCY KIT: Handy set to have close by in case of an accident in the house or while hiking.

72 PIECES: This complete certified veterinarian kit includes items such as compression bandages,…

EXTRA BONUS PRODUCTS: In addition to the handy, must-have first aid items, it also includes a dog collar, five poop waste bags, a blanket, a number for a 24-hr poison control centre, and an emergency how-to booklet.

PREMIUM QUALITY BUNDLE: This green camouflage printed bag of heavy-duty fabric.
The FabFur First Aid Kit is relatively comprehensive, and it includes most of the bandages and similar supplies an owner would want. It doesn't contain any antiseptics or other medications, but you could always add those in yourself.
The dual-zippered case comes in three colours to help make it easy to keep the kit organized. 
You can attach the kit to yourself, stash it in a backpack, or hang it from your dog's harness.
And it bears mentioning that this kit includes some other helpful tools if not necessarily first-aid-oriented. 
It includes things like a flea comb and poop bags.
Included Items:
7.5-centimeter x 4.5-centimeter PBT bandages

5-centimeter x 4.5-centimeter PBT bandages

Rolled elastic bandages

Cotton balls

Medical tape

Cotton-tipped applicators

40-inch x 40-inch x 56-inch triangular bandage

4-inch x 4-inch sterile gauze sponges

2-inch x 2-inch sterile gauze sponges

4-inch compression bandages

160-centimeter x 210-centimeter emergency blanket

Metal tweezers

Metal scissors

Tourniquet with buckle

Flea comb

Waste bags

Stretchy blue protective gloves

Dog emergency collar
PROS
This first-aid kit would work well for regular home use, but it's probably most valuable as a travel kit – especially if you're travelling to the great outdoors. It provides pretty good value for the price, it comes with a nifty carrying case, and it comes with helpful extras, such as a spare collar.
CONS
All in all, this is a pretty solid first-aid kit, and we don't have many negative things to say about it. However, it's disappointing to see that this kit doesn't come with any medications at all.
3.
Rayco International Ltd Dog First-Aid Kits
The Rayco International Ltd Kit comes with most of the typical first aid supplies and a few neat bonus items, such as an emergency LED collar.
Rayco International Ltd Pet First Aid Disaster Kit w/LED Safety Collar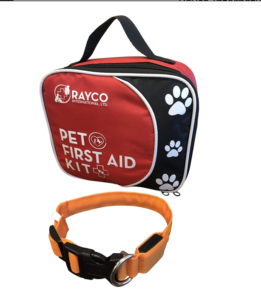 Details
The items are Flashing LED Collar, writable tag, saline solution, styptic pencil, sturdy kit packed full.
The Rayco International Ltd Kit is pretty well-supplied, and it is the best-stocked kit of the three we discuss here.
It includes a few items that few other kits do, such as saline solution, an instant cold pack, and a tick-removal tool. It also comes with a few things you probably wouldn't use on your dog, such as Band-Aids, but that shouldn't be a big problem. 
All of these supplies come in a multi-pocket carrying case, making it easy to keep your kit organized and find things at a glance. The travel case is red and black to make it easy to find when you need it.
Included Items:
Two gauze rolls

Two small gauze pads

One elastic bandage roll with a butterfly clip

One Blue Pet paw print self-adhesive bandage roll

Ten large Band-Aids

Two patch adhesives

Two triangle bandages

One pair of exam gloves

One tweezer

One angled scissors

One roll of the first-aid tape

Two wooden tongue depressors

One cold pack

One emergency blanket

One blue collapsible water bowl with crucial chain clip

1-15 milliliter saline solution tube

Eight antiseptic wipes

One tick-removal tool

One (10) milliliter syringe

One LED flashing collar
PROS
We'd probably identify this kit as one of the best-stocked options available at an affordable price. The tick-removal tool is a pretty excellent addition for a canine first-aid kit. The organizational setup of the carrying case is a beneficial bonus.
CONS
There isn't much we don't like about this first-aid kit. However, it doesn't come with any first-aid information, and – like most others – it lacks things like hydrogen peroxide and a triple-antibiotic ointment.
How to Put Together a Dog First-Aid Kits
After looking at some of the supply lists for the first-aid kits discussed above, you may start to wonder if you could just put your package together.
Absolutely. There's no reason you can't put together a DIY first-aid kit if you like.
But that doesn't always mean it's the right decision. For starters, you'll undoubtedly spend much more money if you try to assemble your kit.
The carrying case itself will likely set you back ten bucks, and the assorted bandages, gauze pads, and similar supplies will probably cost more than you'd pay for a reasonably well-equipped kit.
But, if you already have some supplies sitting around, or you just like making your kit, go ahead and put one together yourself. Just be sure to include everything you could reasonably need.
We've put together a list to help you do so below.
We created it by combining the recommendations of the AMVA, the ASPCA, and the AKC, and then added a few of our advice to round things out.
We'd recommend printing this out and taping it to the inside cover of your kit. That way, you can just make little notes when you run out of something, which will help you keep your kit well-stocked over the years.
Your vet's contact information

Copies (NOT originals) of your pet's health records

Plenty of gauzes (including gauze wrapping material and gauze pads)

Adhesive tape

Cotton balls

Cotton swabs (Q-Tips)

3% Hydrogen peroxide

Milk of magnesia

Activated charcoal

Alcohol wipes

Styptic powder

Saline eye solution

Digital thermometer

Ice pack

Latex or nitrile gloves

First aid scissors

Tweezers

Safety razor

Tick-removal tool

Triple-antibiotic ointment

Oral syringe, eyedropper or small turkey baster

Pet-safe liquid soap

Towels

Muzzle

Small flashlight

Artificial tear gel
In addition to these items, it is also obviously important to keep any of your pet's prescription or regular medications in your first aid kit.
Supplies Are Important, But So Is Information: Pick Up a Pet First Aid Guide
You need the supplies and equipment to take care of your dog in a medical emergency, but you'll need to know how to put those items to use when necessary.
So, it is always wise to include a pet first-aid book (or some other type of resource) in your kit.
You can probably find a brief, downloadable pet first-aid guide on the web, but you can just purchase a dedicated book for relatively little money.
The 
First-Aid Companion for Dogs & Cats
The First-Aid Companion for Dogs & Cats covers every conceivable scenario, and it has received tons of great reviews from other owners. You can even get it in Kindle form, so you don't have to carry around an actual book.
The First-Aid Companion for Dogs & Cats (Prevention Pets)
Details
Used Book in Good Condition

Shojai, Amy (Author)

English (Publication Language)

448 Pages – 03/15/2001 (Publication Date) – Rodale Books (Publisher)
***
It's not fun to shop for a pet first-aid kit or to make one yourself. But you'll be glad you've covered your bases if you ever find yourself dealing with a sick or injured dog. Be sure to invest the necessary time and effort, so you don't have to worry about it.
Have you purchased any of the first aid kits discussed above? Have you found an alternative that works exceptionally well? Let us know all about it in the comments below!