Why you need to buy a dog raincoat is because dogs are not like humans that they use the restroom when it rain. Therefore, you need to take your dog out.
You have a pretty good chance of taking your dog out in the rain to use the bathroom. Having a dog means dealing with the wet dog consequences of those rainy potty trips.
 It means paw prints and having to wipe his feet for him and the use of a dog hairdryer.
You also have to deal with the wet dog smell. Well, what if it didn't have to be? At least some of those negative consequences can be avoided. 
The key is purchasing your dog a  raincoat designed for him. If you've never thought about what kind of protector to buy for your dog, let us help you. 
Check Out Our Some Of The Best Dog Raincoats.
Speedy Pet Dog Rain Poncho Coat
PetCee Waterproof Fleece Lined Reflective Dog Jacket
RUFFWEAR – Quinzee Insulated, Water-Resistant Jacket for Dogs with Stuff Sack
Ellie Dog Wear Zip Up Raincoat
The Weatherbeeta Reflective Deluxe Parka
We reviewed dozens of dog raincoats to identify the best of the best. We looked at parks with hoods and without; raincoats that double as winter coats and ponchos that are easy to take off. 
No matter what type of dog you have, there's a raincoat for him or her. Early in our research, we determined that the Weatherbeeta Reflective Deluxe Parka is the top pick of dog raincoats.
 With the reflective belt, you won't need to worry about losing him in the dark, and the waterproof design will keep him dry through your whole walk.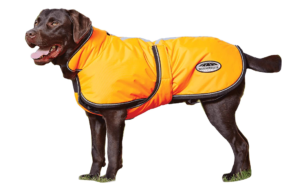 The Weatherbeeta Parka is a waterproof raincoat with a 300D exterior and a 210T nylon lining. The thinner lining will be lightweight and breathable enough to prevent overheating. 
The poly-fill between the interior and exterior layers will add a lot of warmth to your dog. So, even if your dog's paws get wet, his chest will remain warm.
The parka is secured in place by two Velcro straps that wrap around your dog's waist. That allows you to put it on by slipping over his head and securing the Velcro.
 No wrestling with your pup to get this one on. The opening along the back is large enough that you'll easily attach the strap to the collar.
 The harness depends entirely on your preference. When the dog goes out in the backyard, the collar is open on the neck.
The raincoat has over 150 customer reviews on Amazon and has earned a rating of 4.6 stars. Should you be concerned with sizing, the customer reviews feature pictures and more specific size charts.
DJANGO Puffer Reversible Dog Coat
The DJANGO Puffer Reversible Dog Coat offers protection for your dog from both wind and rain. It's also thick with stuffing and lined with flannel, so he'll be sure to stay warm while wearing this raincoat.
 The cloth is even such high quality that it can be worn on the exterior, making this a reversible jacket. 
Of course, flannel isn't waterproof (or resistant), so when your dog is flashing his adorable flannel side, he's not going to be well-suited for rainfall.
The coat is like a coat we would wear, it comes with holes in the arms and zips the chest. It requires to be a bit careful when putting on.
If you are not careful, it can catch skin or fur in the zipper.
If zipping up the underside of your dog may be a challenge trying to remove it. You will beat wrestling, trying to squeeze the dog into a tight-fitting pullover.
Come with a high neck that remains open to allow moving of his collar. It also has a leash hole on the back that will likely fit a harness hook (depending on the harness).

Who Should Buy a Dog Raincoat
Dogs will need raincoats if they're going to be in the rain for any time. If your dog is dependent on walks to vacate his bladder, he will likely need a raincoat.
That means dogs living in apartments or townhouses that don't have their back yard.
Even if your dogs have their yard, you may want to get a protector. The backyards don't give the kind of exercise a walk provides. 
If your pet relies on trails to get out his pent-up energy, the walk still has to happen.
Your primary concern for your pup is getting a raincoat that fits comfortably. If it isn't comfortable for you to walk around in the rain, it's probably not healthy for your dog. 
For instance, when you're taking your dog for walks in the rain. If it's a bit chilly, this discomfort worse by the constant rain. 
Besides, think of the discomfort when you bring your dog back into your home. You'll be dealing with a wet dog and all the mess and smell that comes with it. 
The dog raincoat makes your own life a bit more comfortable; a coat is incredibly helpful. Unless you want to bath him and blow him dry after every walk, that is.
Important Features to Consider when buying a dog raincoat
A dog raincoat should have a few crucial features. Here's what to consider when selecting a dog raincoat for your dog:
Weather. If

 you're shopping for a protector, then you're preparing for inclement weather. 

Consider that getting your dog this coat could, theoretically, kill two birds with one stone. 

If it's a raincoat that is lined and insulated, this can also be his winter coat. 

Conversely, in the rainy seasons, you live in it.

 Is during those hot months, extra linings are probably a bad idea. 

Sleeves. 

If you're trying to avoid the wet dog smell? Keep in mind that the more part you cover, the better. 

Hoods.

 You may need to know your dog a bit before buying it with an awning for your pup. Of course, it will help to keep your dog head dry, but it useless if he won't keep the hood up.

You can find hoods that will tighten to make it more difficult for your dog to remove or train him to accept the hood. You may also find that preceding the hood is the way to a happier dog and happier you. 

Reflective material.

 If your pup is in the rain, there's a good chance it's dark outside than is necessary for optimal vision. Popping a raincoat on your dog that has reflective material will help you find him should he get away from you in the rain. It will keep him safer by alerting others to his presence in the poor visual conditions.
How does a dog raincoat work?
A raincoat for dogs is just like raincoats for his owner.
It keeps them dry. While our rain jackets are almost always a zipper closure, dog raincoats can be closed with Velcro, straps or zippers.
You can choose what style you prefer or which your dog does best. That will vary from home to home.
The design of dogs raincoats is to fit your dog snugly but not to restrict movement. That possibly, the most crucial factor.
It should give the dog plenty of space to do potty business. It will stop in the middle of the low chest and not go down the belly at all.
Otherwise, you run the risk of the dog urinating on it. The back shouldn't go far enough to cover the tail. Otherwise, it runs the risk of getting in the way of number two potty breaks.
Why Don't Pets like To Go Out In The Rain Without A Dog Raincoat?
You may think that dogs don't like going in the rain because they don't like being wet. Wet leads to cold and discomfort. 
You may be surprised how the raincoat improves your dog's willingness to be outside in the rain. 
But consider that there are dogs who love to be wet. Duck hunting dogs who love to swim surely wouldn't mind a little rain, would they? Well, they do because it's not the water that bot.
Do you know that dogs hear about four times as well as humans? The comforting putter of rain on a roof is far more imposing for a dog.
 The sound of rain on the ground (especially pavement or blacktop) as he's on a walk is unpleasant.
What Size A Dog Raincoat Does My Dog Need?
Unfortunately, there is no standard sizing for dog clothing. You can only check the manufacturer's sizing details.
You'll need to take careful measurements of your dog before you purchase his raincoat. You want to check the sizes listed on the sweater and measure all the areas.
The product most likely provides measurements for the neck and chest circumferences and the length. You should be able to fit two fingers in between your dog's skin and the coat.
But no more because you want it neither too loose nor too snug. The length of the sweater should not extend past your dog's tail.
It may interfere with his bathroom habits.
Likewise, should the stomach be open, while the chest may be covered?
Do Dog Raincoat Work With Harnesses?
Not too many dog raincoat works well with a harness, sadly. Some do, and we've included in our list.
You'll most likely have better luck finding a protector that works with a regular collar and leash.
Some will have a hole along the back that can work with a harness. That will depend on your specific harness.
It may be challenging to find out before purchase if your harness fits well with it.
You can take this as a challenge to leash train your dog a bit differently. It would be best if you took the time to find a raincoat that works with the harness.
The parka should give your dog's comfort.
If you try to secure the harness over the parka, it might not work.
The design will be less effective and more uncomfortable for your dog.
The Ellie Dog Raincoat 
will keep your dog dry with a double-layer design. 
Many dog owners want something that looks great and works well. Nothing is more adorable than a classic yellow rain jacket that is of quality materials. The construction protects your pet from rain. 
This jacket comes with adjustable closures, and add-on features are a bonus. We chose the Ellie Dog Wear Zip Up Raincoat as our top overall pick because it meets these needs.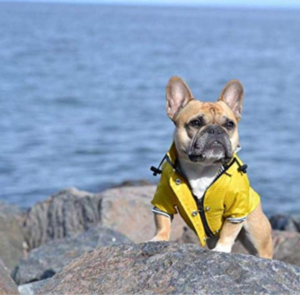 The Raincoat features a bright yellow color and a classic raincoat design. It is double-layered with adjustable closures to ensure a snug and secure fit.
 It has a removable hood for head protection. This dog jacket is entirely water-resistant and harness-friendly. Choose from six different sizes, a variety of colors. 
The product comes with snug-fitting legs, snaps for easy on/off, and multiple pockets.
After testing the Ellie Dog Wear Zip Up Raincoat on the dogs, Heather of The Dapple spoke with the coat's designer, Alan Huang.
Heather describes the jacket as "hands-down the best raincoat [her] dogs have ever had." 
In the interview, Huang intends to be a high-quality combination of outerwear style and functionality.
Pros: Ergonomically designed for comfort, high-quality construction. It also waterproof materials, adjustable closures for a snug fit, removable hood 
Cons: Large breeds may need to be size up due to non-stretchy material. It may not fully cover the belly for larger dogs
The Best Dog Raincoat For Light Rain
Even a little bit of rain can lead to a messy and smelly dog. To keep your dog dry, you need a lightweight rain jacket with adjustable closures for a snug fit.
It should high-quality materials, but it doesn't need add-ons like an insulating layer or hood. Our top pick for the best dog raincoat for light rain is the Ruffwear Sun Shower Waterproof Rain Jacket.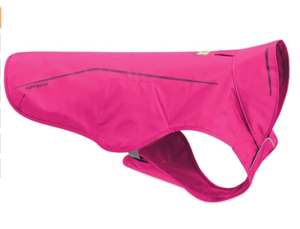 Ruffwear is one of the top designers of outdoor gear for dogs, known for the quality of their materials and the thoughtfulness of their design.
The Ruffwear Sun Shower Waterproof Rain Jacket is no exception, made from PVC-free waterproof fabric with an oversized storm collar for added protection.
This dog jacket has side-release buckles for easy on/off with reflective trim for low-light visibility.
Wirecutter said that the Ruffwear Sun Shower Waterproof Rain Jacket is suitable for damp, moderate climates and provides a secure fit to keep dogs dry in heavy rain.
Pros: Waterproof, full-coverage design, side release buckles for easy on/off, reflective trim for nighttime visibility
Cons: Sizing can be a little bit tricky
The Hurtta Torrent Dog Raincoat features high-quality construction.
Many dog jackets claim to be water-repellant, few stand the test of a torrential downpour. In heavy rain, you need a raincoat that fits snug to your dog's body. It should also keep their neck, back, and body warm and dry. Our top pick for the best dog raincoat for heavy rain is the Hurtta Torrent Dog Raincoat.
The Hurtta Torrent Dog Raincoat is a high-quality weatherproof material lightweight. The outer shell is Hurtta's Houndtex, which makes it waterproof and dirt-repelling. It breathable, and the inner lining consists of breathable mesh.
The Hurtta Torrent Dog Raincoat is a high-quality weatherproof material lightweight. The outer shell is Hurtta's Houndtex, which makes it waterproof and dirt-repelling. It breathable, and the inner lining consists of breathable mesh.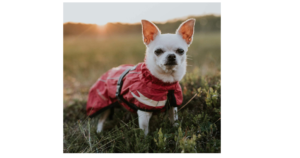 The jacket features a simple buckle easy to get on and off. It also comes with reflective striping to ensure nighttime visibility. 
Wirecutter included the Hurtta Torrent Dog Raincoat in their list of the best raincoats for dogs. They name it their top pick for heavy rain. They said that the jacket offers better waterproofing and coverage than many coats tested. The Strategist also reviewed this jacket favorably, highlighting its moisture-wicking properties.
 Pros: High-quality weatherproof materials, lightweight design with adjustable fasteners, reflective trim for nighttime visibility.
Cons: Not insulated for cold weather, fairly pricey especially for larger sizes