When exercising or travelling with your dog, you want a dog Water Bottle to hydrate your pooch. 
Finding dog water bottles that is reliable and easy to transport can alleviate unnecessary stress. This allows you to enjoy quality time with your canine friend without worrying that he's dying of thirst!
In this article, we explore several types of dog water bottles. You can compare features and benefits to find one that is right for you and your dog!
Why Dog Water Bottles Are Handy
 A great dog water bottle allows you to keep your dog healthy and hydrate without worrying about leaking water or bulky luggage. 
Rather than carrying separate collapsible bowls and inadvertently wasting water when you pour and the dog doesn't finish. The dog water bottles allow you to conveniently offer your dog water without any mess or waste.
Dog water bottles are especially useful for activities such as:
Exercise & Hiking: Portable dog water bottles make jogging, dog Skijoring
C

anicross

, hiking, and other physical activities a secure, hands-free experience!

Travelling:

 Many dog water bottles are made to fit into cup holders for bringing your pup on 

car rides

. You can even use them for 

airplane trips

 with your furry friend!
Why A Dog Water Bottles Hydration Matters
Staying hydrated with that amazing wet stuff, H20 is essential for both you and your dog.
Water keeps cells healthy and helps regulate body temperature. 
Without access to water, your dog could become dehydrated. Dehydration isn't just uncomfortable for your pooch it can also put your dog at risk of more severe illnesses.  Such as improper digestion, decreased circulation, and even organ failure. These health concerns are easily avoided with enough access to water!
However, carrying around spare dog bowls on your jogs can be quite a nuisance. Luckily, several water bottles on the market are designed to be used by both owners and dogs. Allowing you to carry just one bottle on your excursions.
Whether you are going for a walk, biking, running, hiking, or taking a road trip, picking a water bottle that is portable, compact, and leak-proof can keep your pup healthy and happy!

What To Look For In Dog Water Bottles
Depending on your specific needs, there are several details to consider when picking out your dog water bottle.
Dog Water Bottles Materials: What's It Made Of?
Stainless steel and BPA free plastic are durable and pose no risk to your pet's health, making them excellent for dog water bottles.
Plastic bottles are an excellent low-cost option and are usually dishwasher safe for easy cleaning. However, concerns over synthetic toxins are still being debated today.
Stainless steel water bottles have no health concerns and are also dishwasher safe. However, they can heat up more quickly than plastic in warm temperatures, so they aren't ideal for hot climates. 
Drinking Cup Feature For Lapping Up Water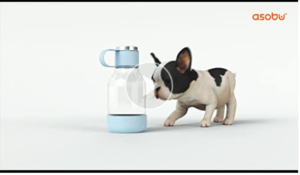 Most dog water bottles are designed to contain a cup or bowl. That will allow your dog to quickly lap up the water. It eliminates the need to bring a new dish.
Separate bowls can also get messy and take up more space in your bag, so having a lid that doubles as a cup are a huge benefit.
Different designs have various shapes and sizes for the bowl, which means finding the right fit for your dog's needs and personal preferences!
Size: What Capacity Do You Need in dog Water Bottles?
In picking out a dog water bottle, it is crucial to find one that is the right size for your travel needs.
Find a water bottle that is small enough to travel with, but large enough to provide your dog (and you as well, if you're sharing) with enough water. 
The perfect size will depend on your dog's size, the season, and the activity you are packing for. 
Best Dog Water Bottles: Reviews & Top Picks
We're delivering our top picks for the best dog water bottles – you really can't go wrong with any of these top picks! Consider various features and sizes to find the best choice for you and your pooch!
The X-Xdun dog water bottle
 features a sleek, stylish design that allows you to provide your pup with water while on the move.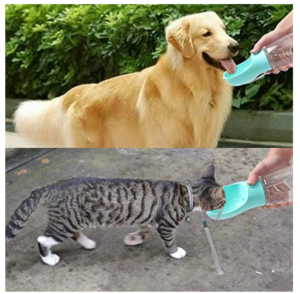 This water bottle holds 12 oz of water – it's great for trips around town and is small enough to be ultra-portable.
The bottle features a leak-proof design through the use of a rubber sealing ring to ensure no stray drippage, and the unit's single lock/unlock button will make sure you don't accidentally spill water when filling up the reservoir.
This dog-friendly bottle comes in three colors: white, turquoise, and pink!
Buy Now at Think Of The Floofs!
PROS: This is a really stylish looking water bottle, and it's compact enough to throw in your purse or backpack without thinking about it twice.
CONS: 12oz is a fairly standard size, but it won't hold tons of water, so if you're looking for a dog water bottle for long hiking trips, you may want one with a larger capacity. The bottle can be purchased with free shipping at Think Of The Floofs, but it takes a couple of weeks to arrive, so it requires a bit of patience.
Gulpy Water Dispenser for Dogs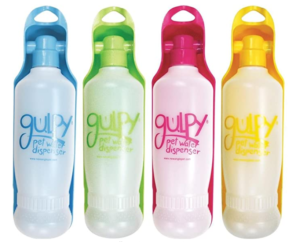 The plastic bottle folds into the tray, filling with water when the water bottle is flipped open and squeezed, creating a natural bowl for your dog to lap water from when you are on-the-go.
Details
Will also accept standard water bottles

The convenient belt clip on the back

Just flip to open — flip to close

Ships in one of assorted colors (yellow, green, blue or pink)
PROS: The Gulpy can also be used to fit standard water bottles, which can be handy for quick refills. It also comes with a belt clip you can use to attach to your bag or belt for transportation.
CONS: This water bottle doesn't say anything about being BPA-free. Owners also note the hinge points aren't the most durable out there, and a few folks have had the plastic tray break upon dropping the unit.
H2O4K9 Dog Water Bottle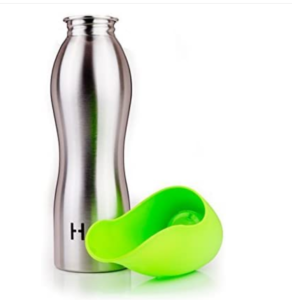 The
H2O4K9
is made with food-grade stainless steel and is conveniently designed with the lid also functioning as the bowl. The 25-ounce capacity means it's large enough to hold plenty of water for a variety of activities.  
This lightweight canine-friendly water bottle features sturdy and durable hinge points, along with a BPA-free lid and leak-proof design. The bottle is also designed to fit into a car's cup holder, a nice added bonus.
Both segments of this water bottle can be recycled, which is an added bonus for green owners. The bottle includes a clip loop, which can be used in conjunction with a carabiner to attach the bottle to a backpack for hikes and walks.
The bottle comes in several colors: green, red, pink, and yellow.
Product
H2O4K9, Dog Water Bottle and Travel Bowl, 25-Ounce, Pure Stainless
Details
DESIGNED FOR DOGS: The twist top travel lid was made to fit a dog's natural drinking style.

SAFE FOR YOUR DOG: the cap is BPA-free, the bottle is food-grade stainless steel.

DURABLE: The twist top lid has no hinge points that can break if the bottle is dropped. The 18/8…
PROS: Owners love this leek style of this water bottle and appreciate the immense capacity to keep dogs hydrated throughout the day.
CONS: Owners note that this bottle does have the potential to dent if dropped, and the stainless steel could potentially be prone to rust – just make sure to dry the bottle out when you're not using it.
HighWave Travel Dog Water Bottle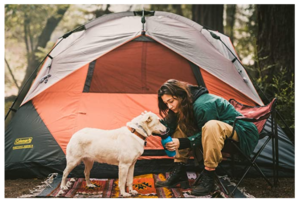 The HighWave Travel Dog Water Bottle is a 20-ounce plastic water bottle with a lid that conveniently doubles as a bowl.
To fill the bowl, you simply squeeze the bottle. After your dog has quenched thirst, you can drain the pot and return the water to the jar by giving it another squeeze, making sure no water is wasted!
Product
Details
THIS IS THE ONLY AUTHENTIC LISTING FOR THE HIGH WAVE AUTODOGMUG
The Highwave AutoDogMug is a USA-made bottle ideal for hikes, car trips, trips to the dog park, and others! While the bowl top adds some bulk, it also provides significant drinking convenience for your pup.
This bottle is dishwasher safe, BPA-free, leak-proof, and can fit in your car's cupholder for automobile adventuring. It also features a velcro loop so that the bottle can be transported hands-free.
PROS: Owners noted that it was straightforward for their dogs to drink out of this bottle/bowl hybrid.
CONS: This bottle only comes in one size, and some owners report needing to keep squeezing the bottle while the dog drinks to keep the water from draining out of the bowl, which can be a real pain.
PupWerks Pup Cup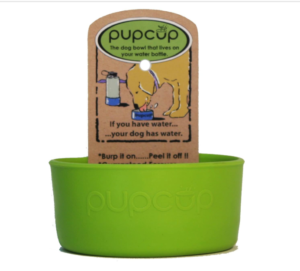 The PupWerks Pup Cup is a bit different from the other water bottles we've reviewed so far. This item is actually a dog water cup – but what we love about it is that it's actually a flexible plastic bowl designed to fit onto the bottom of your water bottle, allowing you to easily water your pup while you're on the go!
Product
PupWerks The Original Pup Cup, Growler Green
Details
The water bowl that fits on the bottom of your water bottle

Fits most water bottles including Nalgene, hydro flask, camelback, and many disposable bottles

Made in the USA

If you have water, your dog has water Simple as that
Fits most water bottles including Nalgene, Hydro Flask, Kleen Kanteen, Camelback, Thermos, and more

Made in the USA, BPA-free, and latex-free.

Available in 5 fun colors
PROS: This bowl is incredibly handy if you already carry a Nalgene bottle everywhere you go. You don't need to think twice about how you'll water your pooch!
CONS: Owners note that the bowl is quite small, and seems to only be adequate for watering slightly smaller dogs (50 lbs or under). Larger dogs might find the smaller-sized bowl frustrating.
The Full Scoop: Which Is Our Top Choice?
Considering effectiveness, durability, and convenience, the H2O4K9 Dog Water Bottle seems like the best option for both you and your dog.
With its earth-friendly stainless steel and BPA free materials, this water bottle is a purchase you can feel good about making. H2O4K9 can also handle more rugged excursions without sacrificing its sleek, appealing aesthetic. 
Easily thrown into a backpack, cup holder, bike cage, or even dog pack, this water bottle is sure to keep your dog healthy and hydrated while allowing you a hassle-free trip with your best friend.
Have you used this product or recommend any others?  We would love to hear your thoughts! Share your thoughts and experiences in the comments section below!